Meet Tito Vladimirov, Crane Crew Forklift Operator!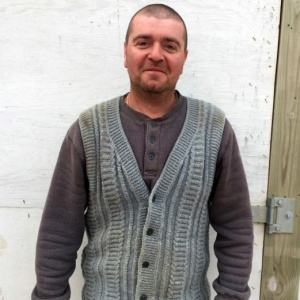 Tito has been working on the Gage Brothers Crane Crew since last December. Originally from Bulgaria, Tito received the opportunity to come to the United States through a lottery system that granted only 200 people from his country dual citizenship in the U.S. and Bulgaria.
In 2005, he arrived in Sioux Falls to stay with a childhood friend who had come here a few years before and they worked together at a greenhouse. The only people he knew when he first arrived were some people from Europe and the people he met while working. Tito's whole family lives in Bulgaria, but he has been back to visit five times since moving to the U.S. He typically stays for about six weeks so he is able to visit everyone in his family.

Travelling is Tito's passion– he has been to places in Asia, Mexico and South America. The most interesting place he has been is the Philippines, which is where he met his fiancé. The pair were engaged recently, and she will be moving to Sioux Falls this summer.

CONGRATULATIONS TITO!

One of his life goals is to save up enough money to retire and go on a 265-day cruise of the world which includes stops in 94 countries!

Here are some more interesting facts about Tito:

If he were an animal, he would be a bird, so he could fly free and travel everywhere.

His favorite food is steak on the grill.

He has one pet, a cat named Nicky Jr.

The music he enjoys the most is relaxation music.

He plans to add to his tattoo collection during his next trip to Europe (he already has a few of Viking warriors and a dragon).

Tito can speak 4 languages fluently: English, Russian, Serbian and Bulgarian.

Connect with Tito to learn more about him!