THE LEADER IN PRECAST CONCRETE SOLUTIONS
Architectural Precast | Structural Precast
Total Precast Solutions | Design Assistance | Caulking Services
Gage Brothers builds beautiful communities by leading the way in quality precast concrete solutions
We assist in building communities and the structures that make up the places people visit, learn, work and play. We manufacture precast concrete that takes on many shapes and forms to structurally support buildings or give them a beautiful exterior facade.

Service Area
Delivering superior precast concrete products throughout the Midwest
Gage Brothers is located in the central Midwest and enjoys a long history of providing high-quality precast concrete solutions for a variety of construction projects throughout the region. We have a fleet of dedicated trucks that are specially outfitted to handle heavy load delivery to your construction site.
Click on the states to view projects by location

Gage Brothers Headquarters
Sioux Falls, SD
Gage Brothers Concrete is PCI® Certified.
PCI® Certification is recognized as the leading, and most widely specified, quality-assurance program in the construction industry. It is specified by Masterspec, United Facilities Guide Specifications, the General Services Administration, more than 30 state departments of transportation, and many other federal, state, and municipal bodies, and is endorsed by the Federal Highway Administration.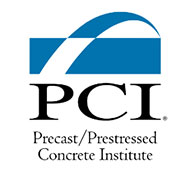 LEARN MORE ABOUT OUR PCI® CERTIFICATION

Group A: Architectural Products
AA certified: AD, AC, AB and AT

Group B: Bridge Products
B4 certified

Group C: Commercial Structural Products
C4 certified

Architectural Precast Concrete

Structural Precast Concrete

Ultra High Performance Concrete (UHPC)