Variety and Versatile
Precast wall panels can be used for a wide variety of buildings and structures. They can be cast in whatever shape fits your project best. They also offer the freedom to select the color, texture and style that fits your vision and are available as either load-bearing or non-load- bearing.
Load-bearing wall panels, also known as shear panels, can carry floor and roof loads in addition to lateral loads and are directly loaded on to the building structure, eliminating the need for additional backup structure and allowing quick installation for building enclosure. Precast walls can also include insulation for high energy efficiency and be precut for windows, doors or other access points.
To learn more or speak to a Gage Brothers' representative about your project, call 605-336-1180 or email us.
Precast Concrete Walls
Adaptive Reuse of Precast Concrete Buildings
Insulated Wall Panels
Insulated wall panels, also called insulated sandwich wall panels, have a rigid insulation sandwiched between two layers of concrete. Specific insulation thickness can be ordered to meet your desired level of energy efficiency and R-values. Gage Brothers uses a low thermal conductive carbon fiber tie system that improves efficiency in reducing thermal bridges that are present in other insulated systems.
Insulated wall panels can be load-bearing, support floor and roof components, and are also available in non-load-bearing configurations. As load-bearing walls, they offer superior structural support and can be cast in a variety of thickness levels to meet your needs.
The creative freedom offered by insulated wall panels allows you to create a visually interesting exterior while providing a durable, hard, interior finish. Walls can vary from a basic structural panel to a high-end architectural finish wall panel. They can also be cast with virtually any type of finish and color to add beauty or drama to your project.
Insulated Precast Concrete Wall Panels
Precast Concrete Insulated Sandwich Wall Panels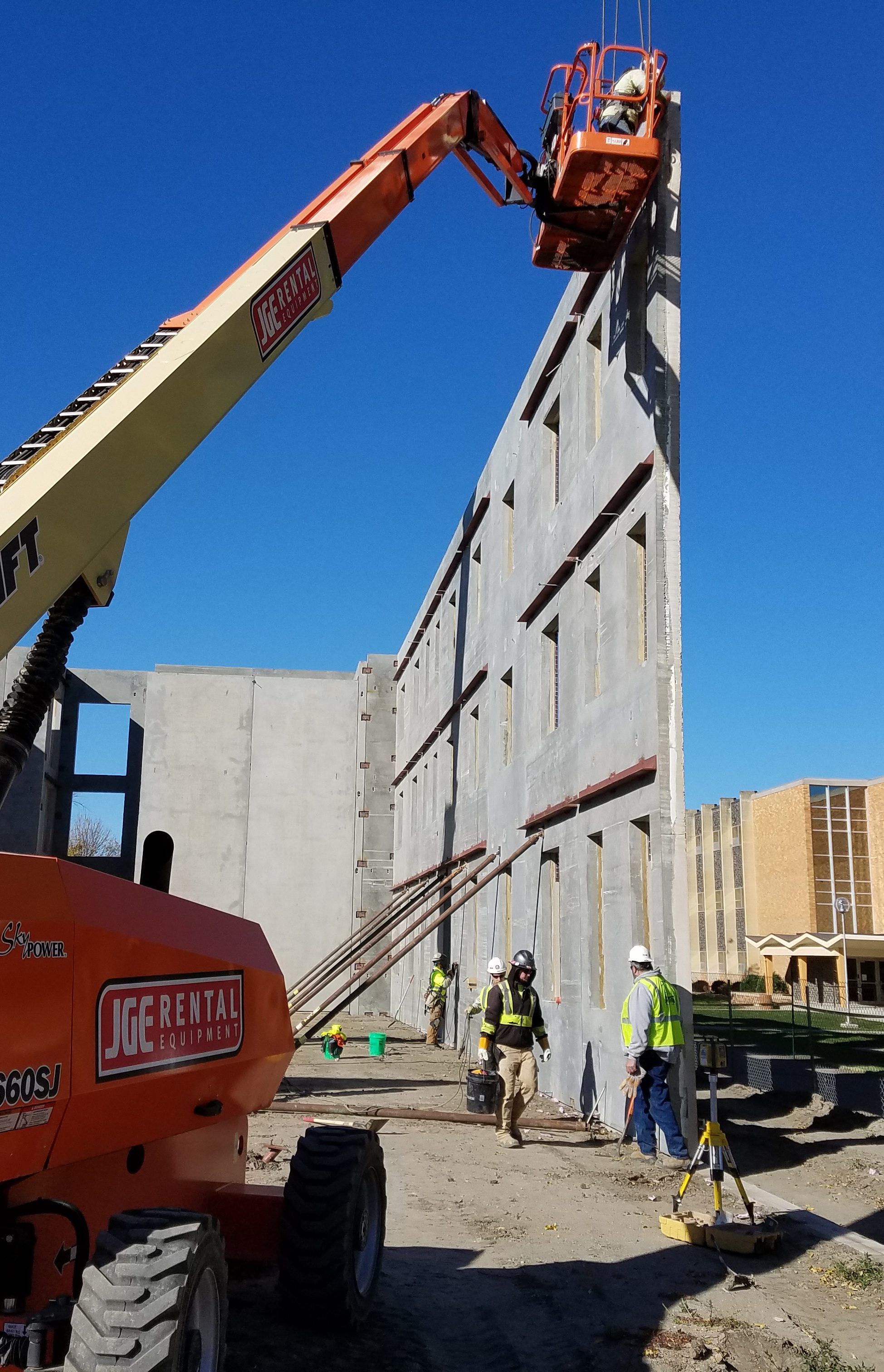 Structural Wall Panels
Precast concrete structural wall panels are designed to carry roof and floor loads and can also transfer horizontal loads into shear walls. They can be cast in a variety of thicknesses and be solid or include insulation depending on your project's requirements.
The panels can be cast in different shapes and sizes and a wide variety of finishes can be added to enhance a structure's appearance.
Another benefit of precast concrete structural wall panels includes superior thermal, acoustic and fire resistant properties.
Due to the strength and ability to carry loads, structural wall panels are appropriate to use in areas with seismic activities. These shear panels transfer lateral forces from events like earthquakes, wind and uneven settlement. They act as a vertical cantilever to resist racking, reducing the swaying of the structure or building. This provides increased stability and strength which minimizes potential damage to a structure.
Often times, shear walls used in parking structures are cast with openings to allow natural light to enter the building while still retaining exceptional structural strength. Structural wall panels are also commonly used internally in a building's elevator shafts or stairwells.
Fire Resistance of Precast Concrete Structures
Storm Resistance of Precast Concrete Structures