Tough Made Easy
Ultra High Performance Concrete (UHPC) is high-strength concrete with small, high-strength steel fibers mixed in, which replaces the need for rebar as a structural steel element. This combination of materials allows for extended span lengths and the use of less reinforcement, offering builders a precast concrete option featuring extreme strength, toughness and a possible life expectancy of 100 to 200 years.
UHPC is ideal for extreme environments, such as areas that experience very low temperature or wet areas and high stress locations like bridges, tunnels and towers. It also allows for the use of thinner panels and support structures while providing superior strength and reliability.

Benefits of Ultra High Performance Concrete:
Enlarged clear span capabilities
Reduced construction time with less material
Better interior design flexibility
Increased durability and building strength
More sustainability with less ecological impact
Engineers and Architects: Optimize your building's complete framing system with UHPC to reduce the number of pieces and columns in interior spaces.
Building owners will enjoy the flexibility of renting to a larger customer base with the increased space design options.
Create open floor layouts that eliminate the need to design around beams that disrupt team collaboration.
Developers and General Contractors: With less precast pieces to work with, enjoy faster building erection timelines and fewer workforce demands.
Questions about UHPC?
Check out our FAQs page for more information about UHPC and other Gage Brothers products.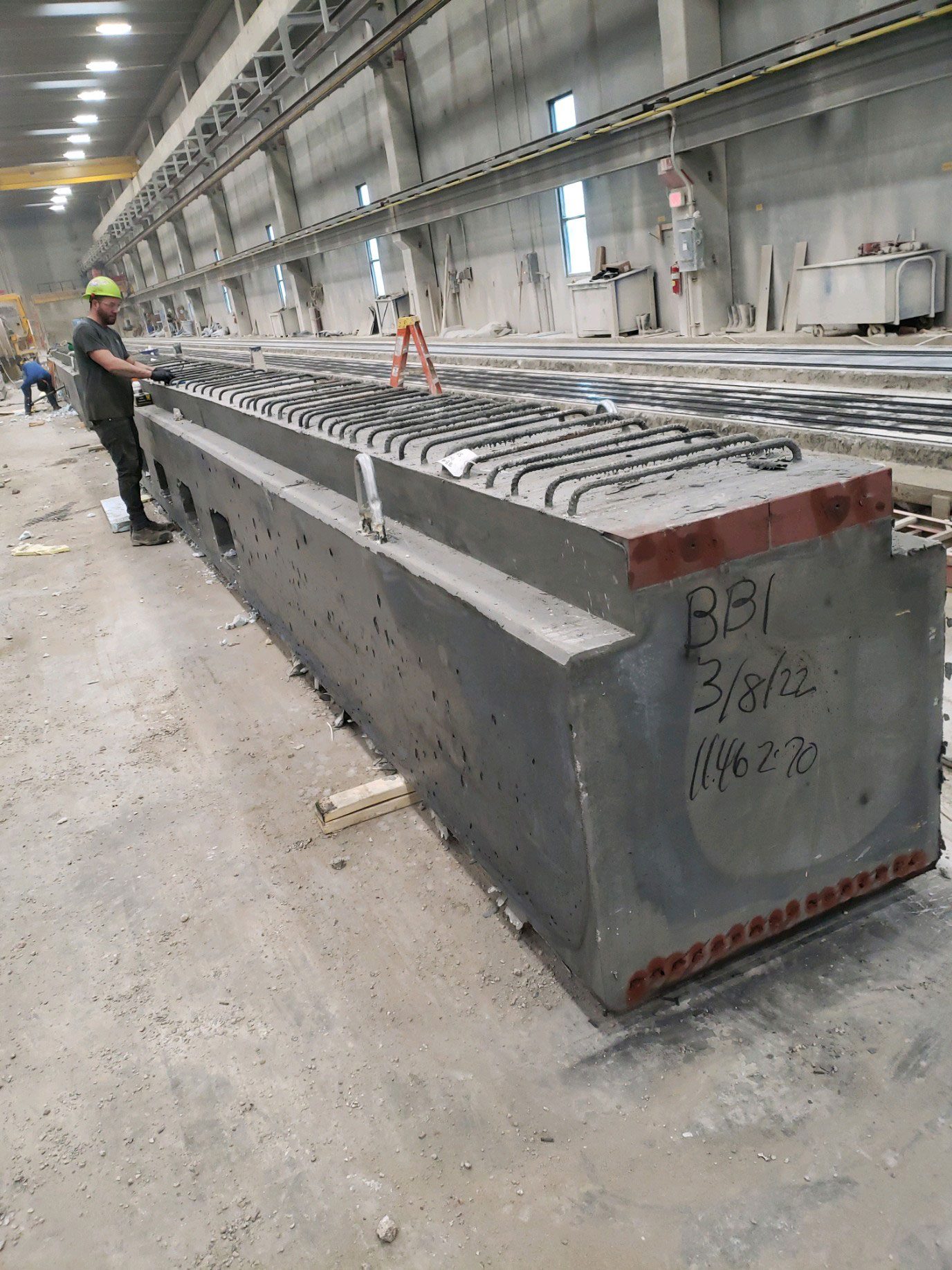 Need more info?
Talk with a Gage Brothers representative today about Ultra High Performance Concrete and your project.

Put to the test
Researchers at the University of Nebraska-Lincoln conducted an experimental investigation to evaluate the flexural and shear capacities of a new precast/prestressed ultra-high-performance concrete (UHPC) box beam with cast-in-place (CIP) concrete topping. Two separate tests were conducted on a beam with five 2 ft x 1 ft voids through the webs at the middle third for utilities.
Shear Strength Results
The UHPC box beam tested in shear had a measured maximum load that is 267% higher than the design-factored interface shear load.
The applied load corresponding to the interface shear factored demand is 89.4 kip. The maximum applied load in the shear test is 328 kip which is 267% higher than the demand.
Design Service Load
The measured cracking load is 137% higher than the design service load. The shear strength of the UHPC beam was 112% higher than that of the design factored load.
It was concluded that the UHPC test beam had a significantly higher flexure capacity than what was required.