Build a Career While Helping Build Beautiful Communities
Our team members come from different backgrounds and many different countries. But no matter where you're coming from, you'll feel at home at Gage Brothers. We value each team member and pride ourselves on our diversity.
A large percentage of our team members have been with us for years, and even decades, because they have found a company that offers growth opportunities, commitment to inclusivity, and a focus on team member satisfaction.
We understand that work is only one part of your life, but we work hard to make sure it is a part you can look forward to each day.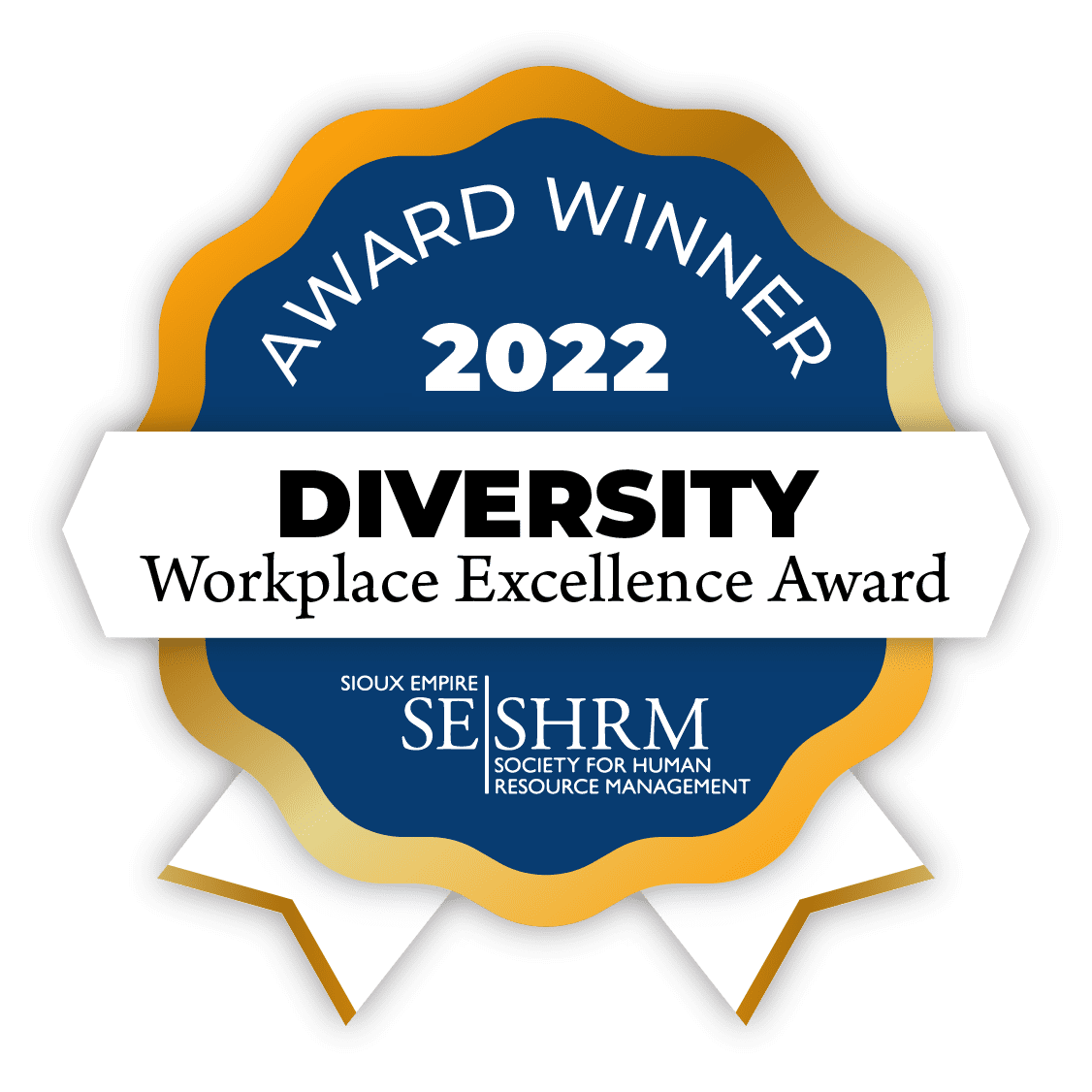 An Excellent Place To Work
Our company is committed to diversity, equality, and inclusiveness and prides itself on maintaining a safe and rewarding work environment both in our facility and on worksites. We were recently awarded a Workplace Excellence Award in the category of Diversity, presented by Sioux Empire SHRM. We are very honored to receive this prestigious award, and will continue to strive to provide a caring and supporting work place for our team!
Let us help find the right opportunity for you
Gage Brothers offers a wide choice of career paths. From engineering and carpentry to equipment operators and office positions, there are dozens of different opportunities within our employee-owned company and we can help you find the one that fits you best.
Visit our Careers Portal to view open positions or to create an account for future openings.
There are a lot of great benefits of working at Gage Brothers:
Health Insurance
401(k)
Competitive Salaries
Wellness Program
Paid Holidays (Including your Birthday!)
Paid Time Off (PTO)
Employee Stock Ownership Plan
Boot Reimbursement Program
Free, On-Site Mental Health Coaching
Dental, Vision, and Life Insurance
Short-Term Disability Insurance
Dog-friendly Office
Paid every other Friday
Year-round work with no travel involved
Breast Feeding Friendly
Affirmative Action, Equal opportunity
Career Advancement

Proud to be an Employee-Owned Company!
Gage Brothers ESOP
Employee stock ownership plans (ESOPs) are tax-qualified retirement plans that invest primarily in the sponsoring company's stock. Gage Brothers' ESOP offers our team members retirement savings and an ownership stake in the company.
The Gage Brothers ESOP started January 1, 2008. Purchase agreements were made with the retiring members of the Gage family for their shares of the company. The ESOP is funded entirely by the company and shares are allocated each year to qualifying team members as a retirement benefit.
Gage Brothers is proud to be a member of the Minnesota/Dakotas Chapter of the ESOP Association and The ESOP Association.
If you're ready for a great career with a supportive, employee-owned company, apply today!
These flags represent our diverse Gage Brothers' team members, including 24 countries, 2 Native American tribes, 2 U.S. territories, 4 branches of the U.S. military, and the gay pride flag.