Innovative student precast housing: Rocker Square I
Rocker Square I is an industrial design, loft-style building that proudly displays the building materials that many try to conceal.
The design showcases neutral tones, exposed ceilings and stained concrete surfaces to give the building an unfinished feel—perfect for a college like the South Dakota School of Mines & Technology in Rapid City.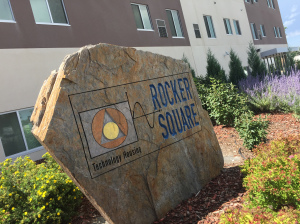 The six-story student apartment building was built in 2012 to accommodate rising enrollment and is owned by Technology Housing, LLC.
Instrumental in the construction of Rocker Square was Hani Shafai, President of Dream Design International, Inc. and a professional engineer/real estate developer living in Rapid City.
A Mines alumnus ('87), Shafai razed a block full of blight and quickly erected the privately-owned precast concrete structure for students.
Rocker Square I was a true alumni engagement project. Mines alumnus ('74) Jim Scull of Scull Construction was the general contractor, while Gage Brothers president Tom Kelley is a proud member of the School of Mines class of 1980.
Gage Brothers quickly manufactured more than 63,000-sq. ft. of precast concrete for a superior quality and highly efficient building at a cost that rivalled a comparable wood structure.
Rocker Square's precast components include corefloor, beams & columns, load-bearing end walls and cladding panels.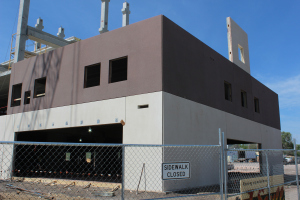 The apartments were built in five months—in time for students to move-in at the start of the 2012 academic year.
"The precast concrete option allowed us to meet the very short time table for construction," Shafai explained. "That was very impressive to all involved; the sound proofing and the energy efficiency of the structure made this construction method our choice for future similar projects."
He added, "Gage Brothers and Scull Construction, and the rest of the project team did a great job meeting the budgets and the project schedule without sacrificing any of the project quality."
"It was great to have a local developer team with local contractors and suppliers help a local state institution."
The Rocker Square I apartments are home to 116 residents and primarily consist of 1,240-square-foot units with four single 10-foot-by-7-foot bedrooms and an 11-foot-by-7-foot living room. There are also a handful of two and three bedroom units. All of the apartment units are furnished and other features include a group study room, free laundry in each unit and easy access to an Einstein Bagels shop on the first floor.
Precast concrete housing structures provide superior resistance to wind damage, fire, earthquakes, decay, mold and mildew provides lower maintenance and insurance costs.
Termites also can't eat concrete.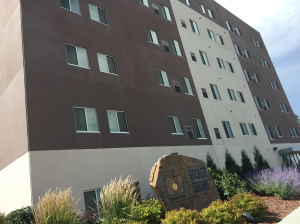 "This new dorm is practical and functional," said Heather Wilson, president of the South Dakota School of Mines & Technology. "As a private-sector project which the University leases, it was designed for flexibility of use, including potential conversion to classrooms or offices."
Building projects like Rocker Square I to house students are part of the institution's long-term strategic plan to help the School of Mines become recognized as a pre-eminent technological university, a place that can attract and retain top-notch faculty and students while also benefiting the rest of the community.
A growing college campus can help revitalize a city and create lively pedestrian corridors where there were once downtrodden storefronts and aging neighborhoods.
"Rocker Square I also started the redevelopment of an aging downtown neighborhood on the edge of our campus, which continues with more public and private sector investment. It is a great example of transformative architecture that inspires others to move a city forward," added President Wilson.
Precast concrete's enduring materials and flexibility with a virtually limitless set of colors, textures and shapes make it the best choice for collegiate housing projects like Rocker Square I.
Shafai added, "We are very proud to be part of such a great project in the State of South Dakota."
In the 2016-2017 academic year, Rocker Square I will be reserved for upperclass students—juniors, seniors and graduate students. Rocker Square I was followed by the construction of two more Gage Brothers projects—Rocker Square II (2013) and Placer Hall, which will open its doors this fall.
Rocker Square I
Additional Project Details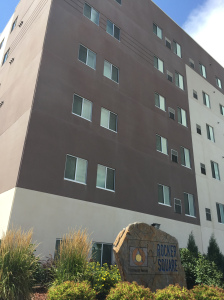 Features of Rocker Square I include:
4-bedroom units include 2 full bathrooms
3-bedroom and 2-bedroom units include 1 full bathroom
Free laundry in each unit
Wireless Internet Access
Cable television
Furnished living rooms with couch, loveseat, tables, and television
Furnished bedrooms with full-sized bed, dresser, desk/chair
Kitchen with full-sized refrigerator, microwave, and dishwasher plus bar seating