Get to Know: New Safety Coordinator Kyle Brown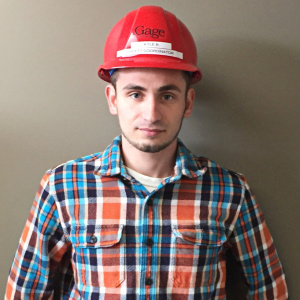 Please join all of us in welcoming Kyle Brown, who was recently hired as Safety Coordinator for Gage Brothers.
Kyle hails from Ohio, where he lived with his parents and two dogs, a Great Dane named Toro and a Bloodhound named McCullough.
To say that he grew up in a small town might be an understatement: his family lives in the smallest county in the state of Ohio (with a population of only 14,000 people). Needless to say, moving to Sioux Falls was a major change for Kyle, but so far he loves it here. He has always wanted to move out west (at least west of Ohio).
Kyle is a Bobcat as a recent graduate of Ohio University, where he earned an associate's degree in Environmental Engineering Technology and a bachelor's degree in Environmental Health. He is also just four credits shy of holding a second bachelor's in Occupational Health and Safety.
Welcome to Gage Brothers, Kyle!

Five Questions for Kyle
Q: What is your dream vacation spot?
A: An island in the Pacific Ocean with clear waters.
Q: What was your favorite subject in school?
A: History (ironic, because I didn't take a single history class in college).
Q: What are some of your hobbies?
A. Anything that involves the outdoors, such as fishing, hunting and trail riding.
Q: What is your favorite movie?
A: 8 Seconds.
Q: What's the most unusual thing you've ever eaten?
A: Raw venison.