Get to Know: New Architectural/Structural Engineer Jharna Pokhrel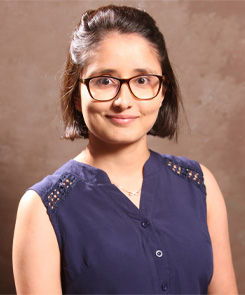 Please join all of us in giving a warm welcome to Jharna Pokhrel, who was recently hired as an Architectural/Structural Engineer for Gage Brothers. Jharna joined Gage Brothers in August 2018. She holds a Bachelor's of Science degree in Civil Engineering from Tribhuvan University (Nepal), and a Master of Science in Civil Engineering degree with an Emphasis on Structures from South Dakota State University.
Welcome to Gage Brothers, Jharna!
Q. Where did you grow up? Tell us about your hometown.
A. I grew up in Kathmandu, Nepal. Kathmandu is a beautiful valley surrounded by hills/mountains. It is almost the size of Sioux Falls, but much more populated and polluted. Besides pollution, its natural beauty is outstanding with numerous cultural heritage sites and a sub-tropical climate.
Q. How did you get into this line of work?
A. Buildings/structures always fascinated me. Later, my interest led me to the field of Civil Engineering.
Q. What are you looking forward to the most working at Gage Brothers?
A. At Gage Brothers, everyone seemed welcoming, cheerful, extrovert, and full of life. I am overwhelmed by the amount of dedication everyone has when it comes to working.
Q. What is your favorite (or one of your favorite) things about your job?
A. It is impressive to have such a strong engineering team here at Gage Brothers. I like the idea of how something designed on paper will be used in a real structure.
Q. What is your dream vacation spot?
A. Santorini, Greece.
Q. What was your favorite subject in school?
A. Mathematics.
Q. What are your hobbies?
A. I like reading novels, sketching, and sometimes trying out do-it-yourself projects.
Q. What is your favorite movie?
A. Recently, I binge watched 'The Godfather' series.
Q. What's the most unusual thing you've ever eaten?
A. While in Nepal, I ate 'tisyo' (which is solid bites of buffalo's spinal cord fluid) thinking it as a mushroom. It tasted good, but it is something I would never ask for again.