EnGage: Who's that guy? It's Caleb!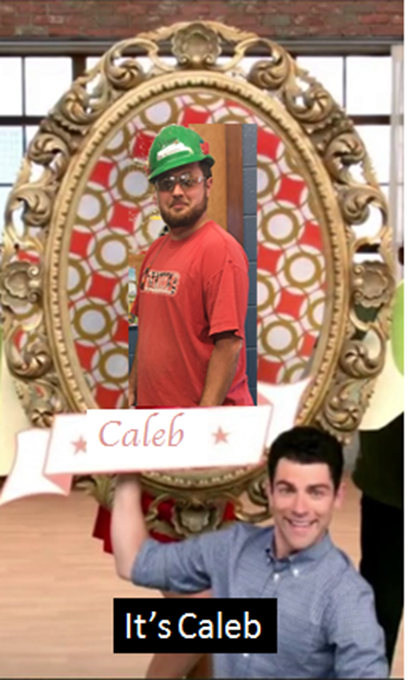 Caleb Merrick was hired in June 2016 for Quality Control, he is now a Quality Control Lead I and will be transitioning over to the new plant this month!  You might recognize him from the Blink365 posters where he models perfect stretching form or as the guy in the plant who wears a Santa hat and Christmas tie around the holidays.   
When he isn't testing concrete and verifying form accuracy, Caleb enjoys playing pool competitively two nights per week, a hobby that he started when he met his coworker, John Akins here at Gage. He also enjoys competing as a runner, coming up he will be running a 6-mile relay in Minneapolis. 
Last year he ran the Sioux Falls Marathon (26.2 miles!)  He said it was long and tiring and it was not a good idea to work the next day. He had to train for 9 months for it and does not plan to run another marathon. Completing this goal was one of his Bucket List items.  Caleb's Bucket List is extensive: he would like to see the Northern Lights, take a hot air balloon ride, and has plans to go skydiving this summer. Some of the things he has already scratched off his list are scuba diving in Lake Superior and visiting another country. He took the opportunity to stay in the rain forest of Costa Rica for 1 1/2 months studying the topography pattern of leaf cutter ants and the paths they carve into the earth. He did this through the University of Minnesota where he majored in Environmental Biology Conservation and Entomology (the study of insects). 
Caleb has always been interested in insects, specifically ants and bees. They interest him because they occupy the same space as humans but in a very different way, he also enjoys how they have civilizations and even raise livestock. He documented his studies and was even published a few times.  
Here are some facts about Caleb:
He HATES cheese.  Ever since he was a little kid, he has hated the taste and texture of all cheeses. He even eats pizza without the cheese.  He has NEVER even eaten a Dorito!
Caleb does not have any pets, but if his building would allow them, he would choose either a tortoise or to rescue a dog from the shelter.
Favorite Movie:  Tommy Boy, comedies are the best and he always enjoys a good Christmas Claymation.
If Caleb could go anywhere, it would be Madagascar where he would study animals.
His spirit animal (animal he identifies with the most) is an Arctic Fox.  He likes their personalities and how they jump in the air and bury their heads in the snow to catch a meal.
Burger King is his favorite fast food restaurant and he is most likely having a Whopper.
Cast as Horton from Horton Hears a Who, Caleb was the star of his high school's production of Seussical the Musical, though his singing parts were performed by someone else.
Despite six years of piano lessons and being a percussionist, he never mastered an instrument and cannot keep a beat.
His parents are his role models because, "they seem to be doing well."
Favorite childhood memory: Going to the Omaha Zoo and going inside the Komodo Dragon exhibit and being allowed to touch it. He also fed the crocodiles. 
In his Netflix queue: Daredevil, New Girl, the Office and Parks & Recreation.
Most ridiculous thing that has ever happened to him: He thought he was going on a fishing trip with his friends, instead they took him to a friend's wedding where he had to DJ the event! He facilitated the activities for the night and played all the music. When asked how it went, he just replied that the couple is still married. 
While Caleb seems to be a fun-loving, funny guy, he is a serious intellectual. He has plans to re-read his favorite books, Theory of Everything and Physics of Evolution.  
Planet Earth is typically playing as background noise when Caleb is at home.  
He believes the micro-chip is the most important technological advancement because it allows computers to process faster giving us more information.
When Caleb says he listens to all music, he is not kidding. His current Pandora shuffle plays: Eric Church, Blink182, Mozart, swing, Scott Joplin, 80's rock, and Slipknot to name a few.
If a movie was made about him, Caleb would be played by Ben Savage.  
One thing that cheers Caleb up on a bad day is looking at pictures of turtles eating fruit with their little mouths. 
Show Caleb you read about him and think he is rad by bringing him his favorite beverage, an original Sunkist!