A look at the H&D Schilling Building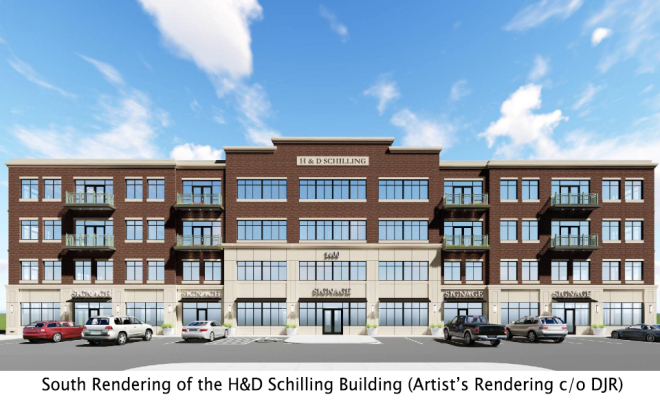 Construction of the H&D Schilling building is well underway. Located in North Dakota's state capitol, the new mixed-use structure in named for Harvey and Diane Schilling, longtime community members and business owners in Bismarck.
The couple's namesake building is being constructed on the corner of State Street & 43rd Avenue in Bismarck. Forty-Third Avenue is expected to be one of the city's busiest intersections in coming years, making the corner a prime location.
The construction manager for the build is Capital City Construction, while the architect of record is DJR Architecture. Aaron Wockenfuss serves as DJR's project manager for the Schilling Building.
The design team is led by Curt Schilling, the son and business partner of Harvey and Diane Schilling.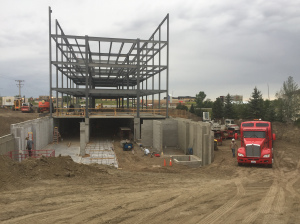 The build calls for more than 18,000 square feet of Gage Brothers corefloor and grey panels, along with beams and columns.
The H&D Schilling Building, featuring North Dakota's own Hebron Brick, draws its design cues from the 1930s. The first floor lobby nods to the art-deco period with smooth lines and geometric shapes in every detail from the radiators to the chandeliers. The elevator carries its passengers to the top with visible mechanics; a hallmark of quality workmanship.
This Class-A building will also feature twenty-four open-air balconies, underground heated parking and heated sidewalks.
The four-story mixed-use commercial development will have first-floor retail space while the remaining floors will remain open so they can be adapted to either office or residential space based on the highest demand. Bismarck's overall job growth was ranked no. 14 in the Forbes 2016 "Best Small Places for Business and Careers," which could help the additional floors fill up rather quickly and creates added optimism for the city's future growth.
The H&D Schilling Building is job no. 35 in Bismarck for Gage Brothers. The 102-year old precast company's foray into North Dakota's state capitol was the library and an academic building for Bismarck State College back in 1967. Gage Brothers has also done extensive work for the University of Mary (1967, 1995).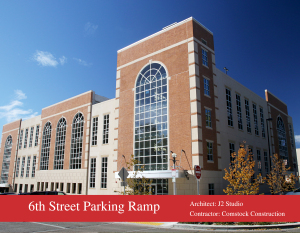 Gage Brothers' largest Bismarck project is the 6th Street Parking Ramp is located on 6th Street between Thayer and Broadway Avenue. Completed in 2014, the parking structure has the capacity to hold nearly 500 vehicles and contains more than 42,000 square feet of precast concrete in a variety of colors and finishes.
The H & D Schilling Building has a projected completion date of March 2018. Click here to view more construction photos.