2022 Winner of the Workplace Excellence Award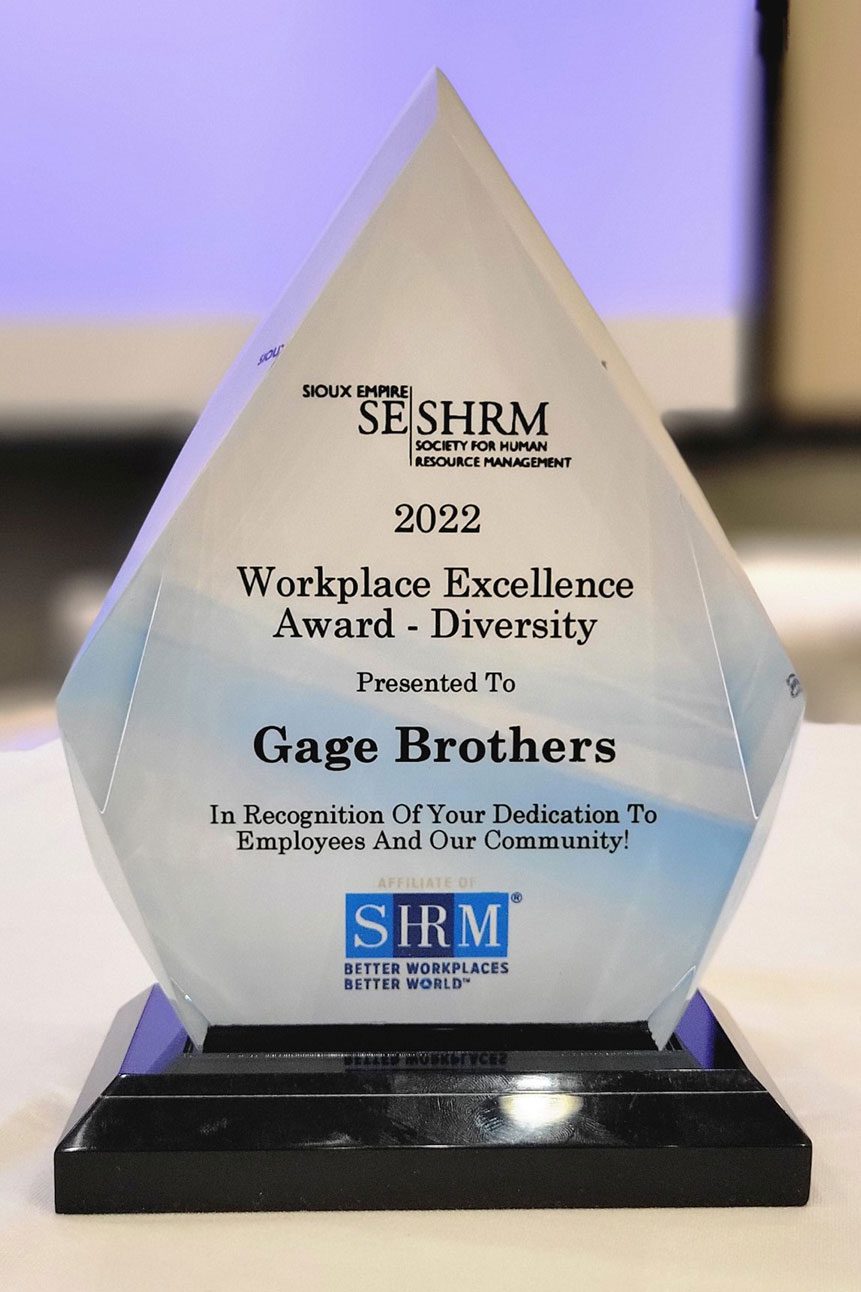 Gage Brothers is the 2022 Winner of the Workplace Excellence Award in the category of Diversity presented by Sioux Empire SHRM! We are beyond excited to receive this prestigious award.
Here are just a few reasons why Gage excels in the area of diversity…
Because a large percentage of Gage Brothers' Team Members are originally from different countries, we have implemented an 8-week leave program for Team Members to go to another country and continue to receive benefits and protect their position. Team Members may go years without seeing their family members in person and will plan trips long enough for them to get to reconnect. Gage Brothers supports those Team Members by allowing them the time to bond with their family members through this leave.
Our breakroom is decorated by flags that represent our Team. We have 25 countries, 2 U.S. territories, 2 Native American Tribes, 4 branches of U.S. military, the Pride Flag, and Transgender Flag all flying proudly together. Every new Team Member is brought into that room and shown the flags and we tell them that if they do not see a flag that represents them to let us know and we are happy to order one.
PLUS…
Team Members can take any time they want to celebrate a floating holiday during the year.
Team Members may choose to donate any amount per paycheck to any non-profit organization of their choice with a company match.
Gage Babes is a group for women (and those who identify as female) who work at Gage Brothers to meet and get to know one another.
Trainings and meetings are in both English and Spanish. Application, orientation, flyers, benefit information, our employment app, announcements, and verbal presentations are all done in both languages.
Each year, less commonly known holidays are called out in the newsletter such as Ramadan. Team Members are interviewed and share a bit about how their family celebrates and some traditions they enjoy.
Gage Brothers is a great place to work! If you are interested in being a part of a company that celebrates each others' differences, see all available open positions.