Trio of Gage Brothers projects named to Finance & Commerce "Top Projects of 2016" list
Finance & Commerce recently honored Minnesota's top construction projects with its tenth annual Top Projects Series.
The selected projects were celebrated with an award event on July 26, 2017 and with a daily series in the print publication.
Projects are judged for their degree of difficulty, creativity in design, innovative construction techniques, cooperation among contractors and management, and sustainability efforts.
Projects that completed in 2016 are eligible for honors. All projects are eligible, whether new construction or a major renovation in commercial or residential.
The three Gage Brothers projects named to the list are the Minnesota Senate Building, Maurices Headquarters and the Wells Fargo Downtown East Corporate Campus. In total, Gage Brothers produced 271,651 square feet of precast concrete products for the acclaimed trio.

The Minnesota Senate Building

By Todd Nelson, Finance & Commerce
Project Details
Project cost: $89.6 million
54,571 square feet of precast
300 pieces
Precast Erection Start Date: May 2015
Precast Erection Completion Date: September 2015
Project Completion Date: January 2016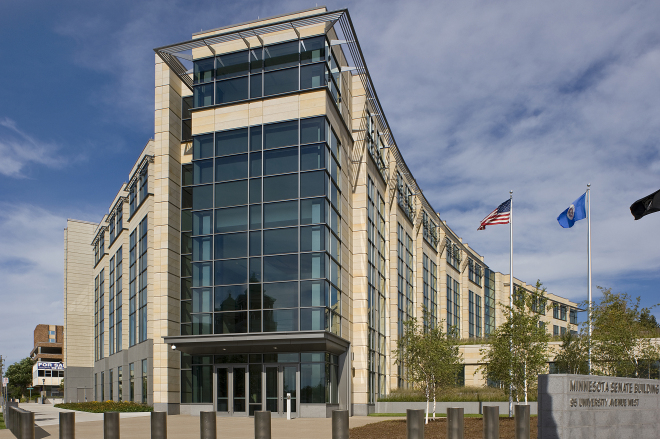 The group had just 20 months to design and build a structure that would house all 67 Minnesota senators, support public participation in the legislative process, and serve the public for a century. The building, which had to be ready for occupancy by January 2016 to accommodate that year's legislative session, was completed on time.
Architects from St. Paul-based BWBR and Connecticut-based Pickard Chilton, a variety of engineers, and design-builder Mortenson Construction of Golden Valley met daily to collaborate on the design and assess progress.
Design-build team members gathered on the upper floor of a credit union building that Mortenson rented across the street from the project. In industry jargon, it's called the "Big Room" concept.
The 293,000-square-foot Senate building, the first new legislative building neighboring the Minnesota Capitol since 1932, includes offices for senators and their support staff and serves as a workplace for more than 360 people. It includes a 250-seat theater-style hearing room and two 150-seat hearing rooms.
Citizens and future building occupants offered input on the design. "One of the things that made it 'of Minnesota' was the involvement of Minnesotans along the way," said Stephen Harris, architect with Pickard Chilton.
Maurices Headquarters & City of Duluth Parking Structure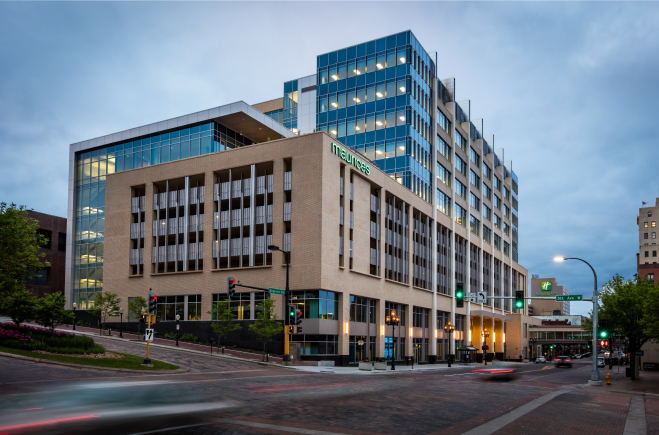 Project Details
Project cost: $70 million
66,747 square feet of precast
502 pieces
Precast Erection Start Date: March 2015
Precast Erection Completion Date: September 2015
Project Completion Date: March 2016
By Dan Heilman, Finance & Commerce
An ambitious public-private collaboration recently resulted in downtown Duluth's largest building, as well as a new headquarters for a leading retailer of women's clothing. Because the 11-story structure is essentially three buildings in one, it was also one of the more complicated construction projects in the port city's history.
"This was an unusual project because there was so much at stake for both the public and private partners," said Connie Shields, project manager for owners Tegra Group. "The volume of city involvement was huge."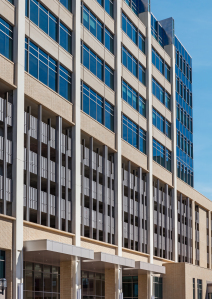 The new Maurices headquarters boasts an exterior of brick, precast concrete and glass. Some complicated thermal requirements were met in order to have four floors of "cold" space for the parking ramp in between multiple floors of conditioned space.
The two-story lobby entrance includes retail and office space, while the second through sixth floors include skywalk infrastructure and the 491-space ramp, which is owned by the city. While most parking ramps aren't noted for their aesthetic charm, this one has a perforated metal skin to keep headlight glare from escaping the ramp.
"The city needed the parking, so they were able to put together a matching grant program that the state Department of Employment and Economic Development was able to participate in," said Shields. "That added an extra $20 million to fund the building and provide extra parking for downtown Duluth as well as parking for employees. It was a win-win for everybody."
Floors seven through 11 contain office space for Maurices and Ascena Retail Group.
Shields noted the monumental amount of teamwork necessary to make the project go, and singled out architect Terry Helland and Dave McLaughlin of McGough Construction for special praise.
"Periodically during construction Dave would say we were using this many miles of wire, this many pounds of a certain material," she said. "That gave everyone some real perspective of what was going into the project."
Wells Fargo Downtown East Corporate Campus

By Dan Heilman, Finance & Commerce
Project Details
Project cost: $217 million
150,033 square feet of precast
1,044 pieces
Completion Date: May 2016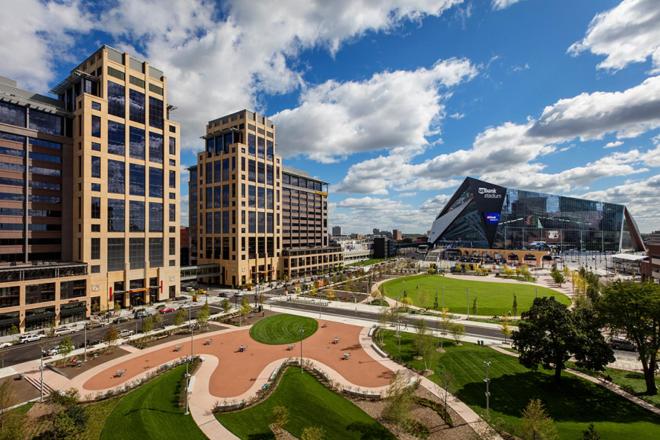 The Star Tribune is in the news business, not the real estate business. So when it decided to sell its downtown Minneapolis headquarters so banking giant Wells Fargo could build a new corporate campus, it was an all-or-nothing proposition.
"They wanted to sell all of the parcel at once," said Tony Barranco, vice president, real estate development, for Minneapolis-based Ryan Cos. US Inc. "Lining up multiple uses and not wanting to carry a lot of expensive urban land, we didn't want to carry it without a plan for very long."
Holding a hot potato such as that parcel of land was only one of the many moving pieces that needed to be negotiated during the development of the Wells Fargo Downtown East Corporate Campus. Also a source of concern was the concurrent construction of U.S. Bank Stadium, which was being built down the street.
"The timing was the most unique challenge," said Barranco. "Investment in the stadium was an important catalyst. We had to make sure we could catch up to the stadium, because a lot of the overall value of the projects – skyway connections, parking ramp, the Downtown East Commons – all had to keep pace with the schedule the stadium construction was on."
The final product was worth the angst. The regional headquarters facility has two 17-story towers offering 1.2 million square feet of office space. More than 5,000 Wells Fargo employees work in a space meant to encourage team collaboration and communication. To top off the project and create an inviting atmosphere, Ryan proposed a new 4.2-acre urban park adjacent to the campus, which the city and Wells Fargo both welcomed.
"Projects of that scale don't get done by one person," said Barranco. "With a whole lot of people moving in one direction, you can get a lot accomplished, and this was the perfect example."
Finance and Commerce provides news, analysis and commentary on Minnesota business. We are the only independent daily newspaper dedicated to business reporting.
Founded in 1887, Finance and Commerce is the only daily newspaper devoted exclusively to business in the Twin Cities (Minneapolis–Saint Paul) of Minnesota.