STI poised to see major growth; help bridge the skills gap

A new facility at Southeast Technical Institute in Sioux Falls will provide much needed additional space and allow the school to expand access to its award-winning vocational programs.
The expansion couldn't come at a better time. After the country hemorrhaged jobs in the 2000s, U.S. manufacturing is on the rebound.
According to government labor statistics, the manufacturing sector has created more than 730,000 jobs since the end of 2010. Add in the looming retirement of the Baby Boomers, and industry experts say they'll need to fill as many as 3.5 million jobs over the next ten years.
A shortage of skilled workers, however, could cut this budding renaissance short.
A recent (2015) study by Deloitte and the Manufacturing Institute found that American manufacturers can't find enough qualified workers. The scarcity of potential workers, coupled with the public perception of manufacturing, makes recruiting (and retaining) the right candidates challenging for companies like Gage Brothers Concrete.
There is a dire need for skilled manufacturing workers in the coming years and technical colleges are essential to the manufacturing economy.
Enter Southeast Technical University, South Dakota's leading technical institute and a 2015 WIX Filters/O'Reilly Auto Part Tomorrow's Tech "Top 4" school in the nation.
Founded in 1968, STI adds nearly 1,000 graduates to the workforce each year.
STI is also spreading the message that careers in modern manufacturing are nothing like the ones you read about while studying the industrial revolution in history class. Today's manufacturing careers are rewarding, take place in safe work environments, pay well, and require strong math, science and analytical skills.
STI's auto-technician, diesel technician and auto body programs are at or beyond maximum capacity. All three are certified as Automotive Service Excellence (ASE) programs by the National Automotive Technicians Education Foundation (NATEF).
As the economy grows and the demand for goods increases, there will be a higher demand for manufacturing technology-capable employees to help facilitate the transportation of those goods to businesses and consumers.
To meet this growing need, STI is adding a new building to campus. The $20.7 million construction project will greatly increase the space for auto, diesel and collision technology students, while improving the teaching environment, school officials say.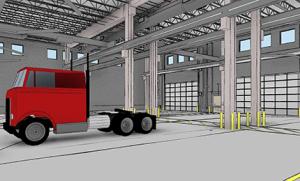 The new space would have academic wings dedicated to diesel and auto-tech classes. STI's collision repair and refinish programs will receive updated facilities and take over the space vacated by the automotive program in the Ed Wood building.
"The new building will allow us to provide access of high quality automotive training to more people," said Jason Merritt, an Automotive Technology Instructor for STI.
Merritt expects the new, 91,000-square-foot building to provide STI with the capacity to meet the growing demand of industrial companies.
He added, "This will help us provide more technicians to this high demand field which has had a technician shortage for some time now."
According to the South Dakota Department of Labor and Regulation, the worker levels in the Transportation Equipment Manufacturing subsector are projected to increase by 365 workers (13.3 percent) in South Dakota by the year 2022.
South Dakota has a very large and diverse need for transportation equipment, which includes agriculture and commercial engines and implements. Farming is the state's number one industry.
What's significant is that STI's tech talent tends to stay in the Mount Rushmore State. Graduate survey results from the 2013-2014 graduating class show that 84% of all graduates are working in South Dakota and 64% are working in Sioux Falls.
The new auto-tech building at STI is slated for a site across Career Avenue from the Ed Wood Center, which currently houses the programs.
"These expansions also provide the opportunity to: update equipment and technology in all three programs, increase the number of students that Southeast Tech can accept in all three programs, and increase graduate numbers which provides additional prospective employees to regional employers," said Lon Hird, STI's Director of Academic Support.
Additional building plans include a food area and an auditorium.
Gage Brothers was awarded the contract to furnish the precast concrete façade for the new facility. The company will produce more than 36,000 square-feet of corefloor, architectural panels, insulated wall panels, and beams and columns for the building.
"Gage Brothers could not be more steadfast in our support of technical colleges like STI, which are essential to the success of our company," said company president Tom Kelley. "I have been very pleased with the STI graduates we have hired over the years; they possess the necessary skills and knowledge and are ready to work."
An engineer by trade and at the helm of Gage Brothers since 2001, Kelley also serves on Southeast Tech's Foundation Board. He has been involved in many conversations about the misconceptions related to vocational training and plugging the skills gap.
It's the same discussion that prompted GOP presidential hopeful Senator Marco Rubio of Florida to say that the country needs more welders and fewer philosophers during the fourth Republican debate.
Kelley stressed the importance of the new facility and STI's state-of-the-art, work-and-learn models. An increase the number of workers with these in demand skills is needed for industrial companies like Gage Brothers to continue growing.
"Major investments like this help to erase the stigma that is sometimes still associated with a technical education," he added.
"I'm excited to see the final product next year."
Construction is expected to finish in summer 2016, and the three automotive programs would be able to serve more students by 2017. Click here to view the construction progress photo gallery.