Project Update: MWEC Building

The oil boom in the Bakken Region of North Dakota has turned into an electric co-op boom for Mountrail-Williams Electric Cooperative (MWEC), the largest power distributor in the Upper Midwest.
MWEC is one of 65 co-ops situated along the 200,000-square-mile Bakken Formation, where oil and gas exploration are driving frenzied growth in three states and two Canadian provinces.
In fact, the city of Williston (N.D.), where MWEC is located, has doubled in population since 2007.
That means huge new demand for co-op power as lines are extended to developing fields. This has driven a significant uptick in the demand for the services MWEC provides. The demand has seen MWEC nearly triple its workforce since 2010 as it hustles to serve a consistent backlog of requests for power.
A bigger workforce has caused growing pains for MWEC, as the not-for-profit, member-owned electric distribution cooperative, has outgrown its current space.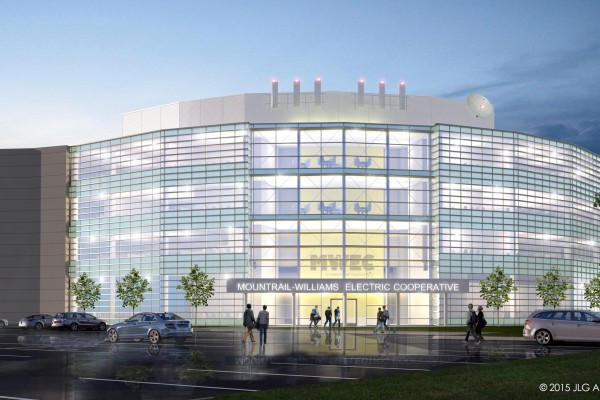 To accommodate current and future growth, MWEC will redevelop their existing site to provide space for a new office building. The project will highlight and showcase the efficient use of electricity while creating a beacon for MWEC on the north side of Williston.
Gage Brothers will produce precast trim, architectural panels and insulated panels for the new four-story structure. This is just the sixth Williston building project that has been awarded to Gage Brothers since the company's founding in 1915.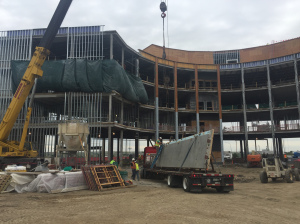 Anchored with portions of Gage Brothers precast concrete walls that relate to the surrounding MWEC campus building, the large expanses of curtainwall glazing will showcase the active office, collaborative, and tenant spaces within. The project will be designed to achieve a LEED Gold rating and will place special emphasis on the electrical components of LEED, given the nature of the cooperative.
The construction manager for the build is the Williston office of FCI Constructors, Inc.
JLG Architects will design MWEC's new energy-efficient headquarters. Gage Brothers has worked on more than a dozen building projects with JLG Architects since 2012. Recent collaborations with JLG include the Sanford Pentagon and the Sanford Fieldhouse.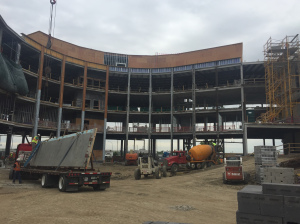 This is the second expansion that MWEC has undergone in recent years to address rapid growth in North Dakota. In 2014, MWEC cut the ribbon on an 85,000-square-foot truck bay to serve its fleet of 100 or so trucks, many of them quick service trucks that repair lines at a moment's notice in all sorts of weather. The shop is four times the size of the previous facility.