Operations Manager Don Hall hangs up hard hat after more than three decades in the precast industry
Gage Brothers has announced the upcoming retirement of Operations Manager Don Hall.
Hall's retirement will be effective March 31st.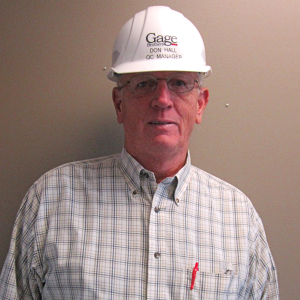 Over the past thirty-five years, Hall has been involved in nearly every aspect of the precast and prestressed concrete industry; ranging from plant ownership, general management, production and operations management, to research and development, engineering, quality assurance, design and product sales.
"I have personally known Don for more than 25 years, and those of us who have worked with Don over the years have learned a great deal from him," said President of Gage Brothers Tom Kelley. "He has always been passionate about precast, and his tremendous knowledge of this always challenging business has greatly benefited all of us."
Hall served as the director of operations at Fabcon Precast in Savage, Minn., from 1995-2005. He then spent four years as the manager of the prestress and hollowcore division for Wisconsin-based County Materials Corporation.
The seasoned veteran of the precast industry started working for Gage Brothers in 2009 as the company's quality assurance manager. In this role, Hall reorganized quality control procedures and mentored several current employees. Under Hall's watchful eye, Gage Brothers received some of the highest PCI certification scores the company has ever received.
Hall also ensured company-wide compliance with the Gage Brothers Quality Assurance Program and PCI certifications.
"There are many things that Don has given our company that went unnoticed because of his quiet and unassuming nature," said Kelley. "He has selflessly helped many employees grow into future leaders at Gage Brothers."
Hall assumed his current role of Gage Brothers operations manager in 2015. His days as operations manager were spent steering the day-to-day operations within Gage Brothers' 30-acre manufacturing facility in northwest Sioux Falls. He has been responsible for all aspects of operations within Gage Brothers; including production, delivery, inventory and daily manufacturing.
Added Kelley, "Don came to Gage Brothers at exactly the right time, and we will miss his strong leadership, humility, and attention to detail."
Throughout his career, Hall has contributed to various industry-related organizations and served on several committees to assist in the development of improved manufacturing techniques and better concrete products.
Hall plans to spend more time with his family.
"I wish Don and his family nothing but the best as they begin this next chapter of their lives," said Kelley. "He leaves Gage Brothers in a very strong position to continue our success."
Hall's successor will be Mike Vander Vorste, who was named Gage Brothers plant manager last fall. Vander Vorste has more than 18 years of experience in engineering and plant management. He is a licensed professional engineer in the State of South Dakota and holds a Bachelor of Science degree from the South Dakota School of Mines and Technology.

###

About Gage Brothers 
Gage Brothers Concrete Products Incorporated (gagebrothers.com) was established in 1915 by members of the Gage family and now employs more than 250 employees in northwest Sioux Falls. Employee-owned since 2008, Gage Brothers has a proud tradition of being a leading manufacturer of innovative architectural and structural precast concrete products. Products manufactured at the Sioux Falls plant can be found throughout the Midwest, including projects throughout Colorado, Iowa, Minnesota, Missouri, Montana, Nebraska, New Mexico, North Dakota, South Dakota and Wyoming. The Midwest's premier precast concrete company was awarded $49.1 million in job contracts last year.