New USF residence hall will provide community living and learning environment
As students return home for summer or scale back their course work, colleges and universities ramp up construction.
The University of Sioux Falls might lack most of its student population during the summer, but the campus is currently abuzz with activity thanks to the construction of a new residence hall—the first new dormitory in more than a decade.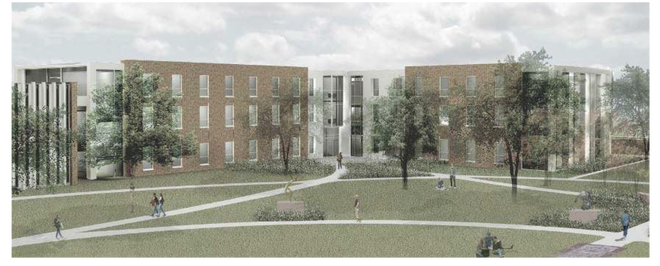 The plans call for a three-story residence hall that can house up to 188 students— making it the largest dormitory on campus. Gage Brothers was awarded the precast concrete building contract in late June and will manufacture more than 70,000 square feet of precast concrete for the project.
Gage Brothers is the top producer of precast concrete materials for residential halls in the Midwest. Recent collegiate projects include Placer Hall (SDSM&T), Jackrabbit Grove (SDSU) and the award-winning 17th Avenue Residence Hall (University of Minnesota).
The project addresses both USF's commitment and the city of Sioux Falls' desire to bring more students into campus housing. The residence hall is the latest in the university's series of investments and redevelopment projects that USF has planned for the coming years.
Other than the newly-conceived project, the Sullivan Faith and Living Center (2005) was the most recent dorm constructed on the USF campus.
Construction of the new residence hall—the $11.7 million price tag includes additional parking— began on July 7 with the demolition of Patterson Hall on the corner of 22nd and Summit. Patterson was an iconic building in its time, but was in need of modern amenities the 40-year-old building could not accommodate. Safety at this intersection had also become a concern with limited sightlines and increased traffic in recent years.
The renovated corner will feature open spaces and landscaping designed to provide better sightlines and an overall better image for the liberal arts university.
To create space for the facility and accommodate increased parking, several university-owned houses will be removed.
USF took a unique approach to the building's design. In order to best suit the needs of modern university life, they conducted conversations with both current and prospective students along with their analysis of critical trends in student residence life design.
"We integrated current best practices in the field of student development with the needs and desires of a contemporary college student, gathering ideas not just from current students but also prospective students and their families," said Corey Ross, Vice President for Student Development and Dean of Students at USF.
Ross added that university officials sought to be flexible, functional and forward-thinking with the design because the needs of students and the institution can change throughout the years.
The residence hall will mirror USF's other residence halls and buildings in many important ways. Students will be held to the same code of conduct in place in other similar campus housing spaces, and resident assistants will live on site.
The currently unnamed residential hall is being designed by Sioux Falls-based Koch Hazard Architects.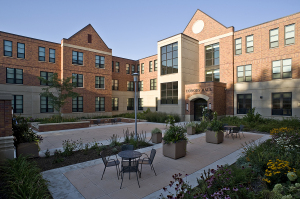 Gage Brothers has collaborated with Koch Hazard on more than 100 building projects since 1970. Recent jobs include the Jackrabbit Village and Jackrabbit Grove residential communities at SDSU and Vance Thompson Vision, a 2014 AIA South Dakota Design Honor Award winner.
The two firms are also working together on the new 10,000-sq. ft. Stockwell Engineers offices in Sioux Falls.
USF awarded the construction contract to Sioux Falls Construction, a firm that Gage Brothers has worked with for more than 50 years, giving the housing project very strong local ties.
"USF does its best to support local businesses, and we are blessed to have quality choices in this geographic area," said Marsha Denniston, the school's Vice President for Business & Finance.
The three-floor residence hall will feature: 94 rooms that contain two large (11' X 20') double rooms separated by a private bathroom. Other amenities include common areas and study spaces on each floor, multipurpose rooms and kitchen facilities, as well as a fitness room, laundry room and theater for the residents to share.
Added Ross, "Our interior is designed to be as stylish and as comfortable as a modern home, replete with bedrooms on the wings that encircle a 'commons' in the middle of every floor for students to gather, relax and share ideas."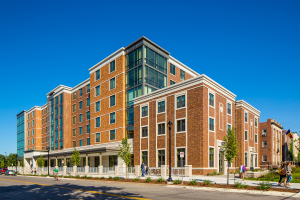 The predominant structural design consists of thin-brick cast in quality Gage Brothers precast panels meant to complement the exterior of other buildings located on the academic quad, while providing a strong presence to the northeast corner of campus as approached from 22nd Street.
The precast structural components to be produced at the Gage Brothers plant are: 44,179 sq. ft. of corefloor, 24,485 sq. ft. of architectural panels and 2,114 sq. ft. of walls for the elevators and stairs.
Siting and design of the new hall will complete the historic USF campus quad and frames the view into campus from 23rd Street.
Students will also have fewer excuses for not studying since the residence hall will be attached to the Mears Library—making USF one of the few campuses in America where students are living in the same building as the university library.
Talk about living in the library during finals week.
Gage Brothers has a unique connection to this student housing project. The first campus building awarded to Gage Brothers was the Sioux Falls College (as it was called at the time) library in 1964.
A precast concrete ramp was added to the building in 1998.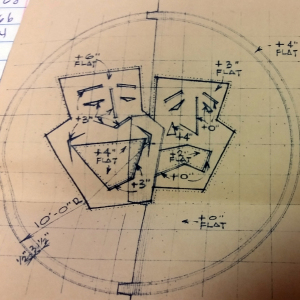 "It's always fun to dig up old drawings and to re-visit projects like the USF library—a building that is not only part of their history, but part of our company history as well," said Gage Brothers president Tom Kelley. "This building contains some of the first architectural panels we ever made and they've definitely withstood the test of time."
Other campus buildings that were constructed with Gage Brothers precast concrete products include: Jeschke Fine Arts Center (1968), Glidden Hall (2001), McDonald Center (2007) and the Salsbury Science Center (2008).
Gage Brothers also provided more than 16,000 square feet of tread & risers, architectural panels and trim for Bob Young Field at the USF Sports Complex.
Kelley added, "We're excited to help make this corner of campus a showcase for the whole university and make it someplace special."
The residence hall is projected to open in fall of 2017.