Mitchell School District Performing Arts Center
Passersby might have noticed that the massive structure going up across the street from Mitchell High School (S.D.) looks a lot different than it did just one month ago.
From a steel skeleton surrounded by dirt and heavy-duty vehicles has emerged a building coming to fruition—the Mitchell School District's new performing arts center.
With a target completion date of around Christmas, much of the work still remains on the sprawling facility, though the structure is taking shape.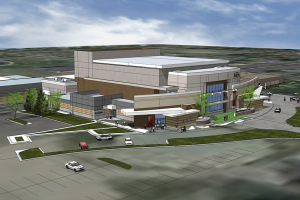 Excavation began last June on the 65,000-sq. ft. performance venue, which is being designed by MSH Architects of Sioux Falls. Building features include a 1,200-seat, 3-tier auditorium, rooms for the school's choral, instrument and performing arts programs, and a smaller black box theater.
The predominant feature is the main auditorium—the largest high school theater in the state of South Dakota. The new theater is expected to boost the city's music economy by bringing more state-sanctioned events and high caliber performers to Mitchell.
A naming rights deal has yet to be announced for the venue, which will be connected to part of the Mitchell Career and Technical Education Academy. This location functions with the existing buildings on campus and allows for options without disrupting the existing high school building when a new high school is constructed in the near future.
Gage Brothers has provided more than 21,000 square feet of insulated panels and 7,000 square feet of corefloor planks for the $15.3 million project. It took the company approximately 22 days to manufacture the precast in its Sioux Falls plant.
The placement of steel and precast concrete is being completed by Mitchell-headquartered Puetz Corporation. Founded in 1952 by Clarence Puetz, the third generation company offers services ranging from architecture to crane rentals and construction management.
Gage Brothers is no stranger to city of Mitchell. The century-old company has worked on more than 150 jobs in Mitchell, dating back to the old Armour Creamery in 1959. Other projects of note in Mitchell include the new Avera Grassland Health Campus, Joe Quintal Stadium and the DWU/Avera Sports and Wellness Complex.
Gage Brothers also manufactured precast concrete products for the former Soukup & Thomas International Balloon & Airship Museum, which resided in Mitchell from 1992-2001 before being relocated to Albuquerque.
Work is steadily progressing on the facility. Puetz has installed the corefloor planks and the roof bar joists. Performance spaces like the black box theater and practice rooms have gone from dirt to concrete floors.
Gage Brothers has been working with the Puetz Corporation since the mid 1960's, when they manufactured concrete for school additions in White Lake and Alexandria, S.D.
Gage Brothers has collaborated with Puetz on a total of 75 building projects since 1964—38 in Mitchell alone, including the DWU Graham Hall remodel (1967), Mitchell Country Club (1973), CorTrust Bank (2000) McGovern Library (2005) and Jackson Plaza (2007).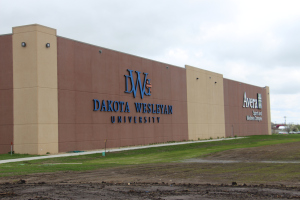 Most recently, Puetz served as the general contractor for the new Dakota Wesleyan University/Avera Sports and Wellness Complex. DWU's $10.5 million fieldhouse opened in February and was constructed with 87,000 square feet of Gage Brothers precast concrete products.
"Puetz is a long-time South Dakota company, and we've done a lot of successful projects together over the years," said Gage Brothers president Tom Kelley. "We were happy to learn that we would be working together because Puetz is a highly-respected company with consistently increasing capabilities."
Designing and building performing arts centers require a unique level of sophistication that often makes them incomparable to other projects, explained Kelley.
The design of performing arts centers are influenced by many aspects ranging from size, acoustics and rigging to sight lines, backstage maneuvering space and rehearsal areas.
"It's a different animal because of the levels of complexities and one of those building projects where every square foot is thought over," Kelley said.
Gage Brothers brought a wealth of experience to this project. The company has produced precast concrete products for performing arts centers across the Midwest for more than a half-century, starting with Morningside College's Eugene C. Eppley Fine Arts Building in 1965. Other performance spaces include Sioux Falls College (now USF) fine arts center (1968), the Washington Pavilion (1996), Brandon Valley Performing Arts Center (1999), South Dakota State Performing Arts Center (2000), the award-winning DeWitt Theatre Arts Center at Northwestern College (2002), Harrisburg Performing Arts Center, and the O'Gorman Performing Arts Center (2011).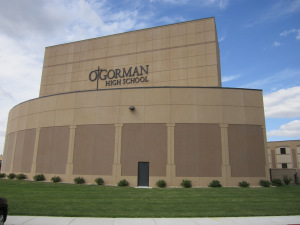 Project challenges for the O'Gorman Performing Arts Center included a winter construction start and the need to build while school was in session, which limited the space available for construction and demolition. In addition, one-hundred percent of the funding for this project came through donations, so the budget was limited and sticking to it was imperative.
Despite these challenges, Gage Brothers was able to incorporate exceptional design elements that stayed within the budget and surpassed the owner's expectations.
By working closely with Puetz Co. and the design partners, Gage Brothers is committed to providing the highest level of project supervision and communication for the new performing arts center in Mitchell.
"Everyone I have talked to is excited about it," Kelley said. "It's going to be a great venue."