Lake Lorraine development product of vision, local support and plenty of precast
Where deer leave tracks and hawks circle overhead a frozen lake, there once was stripped earth cluttered with the machinery gouging gravel from just beneath the surface.
Just a short stroll from Lake Lorraine, construction crews put the finishing touches on a luxurious active retirement community and the new corporate headquarters for one of the nation's fastest growing automotive classified websites. Boutique shops and retail bookend both structures, with more businesses on the way.
The transformation of Lake Lorraine's acres into a premier lifestyle center belies their noisy, industrial history and reflects a change of fortune for the former gravel pit.
It took Warren Friessen fifteen years to acquire the 130-acre parcel now known as Lake Lorraine, located south of 26th Street, west of I-29 and east of Marion Road. The pit provided the owner of Friessen Construction with essential building materials for several commercial projects in western Sioux Falls. His first land purchase in the 1970s, a 55-acre parcel chunk, was used as the source of aggregate for the base of Interstate 29. He tapped into a big vein of sand on that was used in building projects including Target, Empire East, Billion Automotive and Sioux Falls Ford.
Friessen extracted the remaining gravel in 1987 to expand Marion Road from a two-lane rural road to a three-lane paved road.

Opportunity is the Quarry

The obvious question remained once the gravel was extracted: what to do with a giant hole that resembled Paul Bunyan's empty bathtub?
But where others might have seen little more than a deep scar on the Earth's skin, Friessen saw a pockmarked land of opportunity. The thought of a finished lake community had been stored in the back of his mind for years while he mined sand and gravel.
He decided to make his hole in the ground a showcase of what can be done when reclaiming industrial land.
The idea may not qualify as revolutionary, but it's quite a leap from years gone by. Before regulators stepped in, it was common for gravel pit owners to dig the deposits and leave.
"In the old days, to just walk away from a pit wasn't that big of a deal. But now the land value is substantial, especially once it's redeveloped," said Gage Brothers president Tom Kelley, who has experience carving a new use out of old quarries.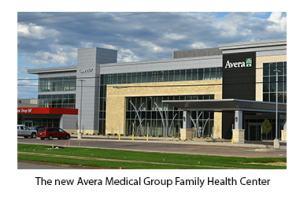 Gage Brothers produced thousands of square feet of precast for Centennial Lakes in Edina (MN), a 100-acre mixed-use development that replaced a large gravel pit in the late 1990's.
Other former gravel pits throughout the country have been turned into golf courses, recreational areas, strawberry fields and nature preserves.
Kelley added, "I think the public is excited to see this kind of commitment from our business community.  Mr. Friessen was not comfortable leaving an eyesore behind for the people of Sioux Falls, and we are happy to help him redevelop the land in a way that should have a positive impact on the community."
The conversion of the pit into a manmade lake took close to 20 years. Almost three-quarters of a million yards of sand were hauled out of the "Terry Pit," as it was affectionately referred to by Friessen Construction employees.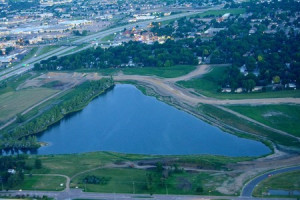 Lake Lorraine spans 22 acres on the Skunk Creek aquifer and is spring fed. The lake was christened Lake Lorraine in 2001, and the name holds a special meaning for the Friessen family. Lorraine is the middle name of Warren's wife, Hilda, and also his granddaughter's name.

A Sioux Falls Story

Residential and commercial construction was poised to follow Lake Lorraine's completion. But that development momentum stalled in 2008 when the economy receded.
In 2014, the Friessen family partnered with Van Buskirk Companies, another family-owned business with deep Sioux Falls ties. They set their sights on developing the Lake Lorraine property into the largest lifestyle center in South Dakota.
The former gravel pit is now well on its way to a long awaited renewal and serves as the prime attraction for investors and end users alike with retail, residential, assisted living, hospitality, corporate center and office interest coming at a dramatic pace.
To date, Gage Brothers has been awarded job contracts totaling more than 126,000-square feet of precast concrete products.
"Whenever possible, Van Buskirk Construction invests in local suppliers to help promote the local economy," said Chad Van Buskirk, Director of Commercial Construction.
There's close to 200 combined years of construction experience in Sioux Falls between Friessen Construction (1968), Van Buskirk Companies (1971) and Gage Brothers (1915).
"Gage Brothers is not only locally owned but also a well-respected company that produces quality products," added Van Buskirk.
The Lake Lorraine mixed-use development is being built with a vast array of Gage Brothers precast products: hollow corefloor slabs, precast beams/columns, architectural cladding, grey wall panels, solid grey shear walls and stair landings.
Phase I of the Lake Lorraine Lifestyle Centre involved the completion of two fully occupied Marketplace malls along Marion Road.
It also included Grand Living at Lake Lorraine, a new senior living community that will open this spring. The 200,000-square-foot, four-story building will include well-appointed residences, a wellness center, and offices for medical providers and several dining venues. More than 30,000 square of Gage Brothers products were used for the facility's fire separation cap above the underground parking.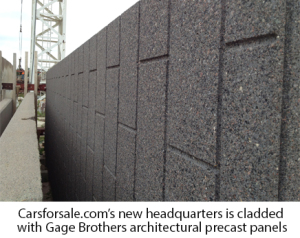 Sioux Falls-based Carsforsale.com's new digs will be something similar to what a tech company might build in Silicon Valley. Beyond the cutting-edge employee amenities (golf simulators, foosball tables) the new headquarters will stand close to the lake, giving employees the chance to get a breath of fresh air or log some lunchtime exercise. The exterior of the building features Gage Brothers high-end architectural cladding in a variety of colors and finishes.
Phase II includes the Shoppes at Lake Lorraine, 168,000-square feet of space that will be occupied by six national retailers. The six tenants have been named: Ross Dress for Less, Hobby Lobby, Carter's/OshKosh B'gosh, DWS, Marshalls and HomeGoods. The retail boxes will be constructed with 65,000-square feet of Gage Brothers load-bearing precast panels.
This phase will also include the Lorraine Professional Center and the completion of a third Marketplace mall, among other projects.
Gage Brothers is also the precaster of record for two large projects that flank Lake Lorraine: the new Avera Medical Group Family Health Center and the future home of Sioux Falls Ford Lincoln. They produced stair tower panels for the 84,000-square foot medical center, which houses South Dakota's first freestanding emergency department. The new Sioux Falls Ford dealership is currently being built with 45,000-square feet of hollowcore plank and load-bearing insulated wall panels.

Strong Partnerships Breed Success

Gage Brothers' relationship with Friessen Construction dates back to the Gerald Ford administration. They have also produced precast products for several Van Buskirk projects since 1976, including precast columns for the third First Bank & Trust branch in Sioux Falls.
According to Kelley, these business relationships, fueled by collaboration and trust, were an essential ingredient for Lake Lorraine's success. Having the right people involved at the right time was also fundamental to the project.
"Gage Brothers' early involvement with Friessen Construction and Van Buskirk Companies was the ultimate catalyst for success," said Kelley. "This proactive approach allowed us to meet design expectations and keep the project on schedule and within budget."
"Gage Brothers has built an excellent team that is easy to work with and provides us with flexibility and options in our design," said Van Buskirk. "In the case of the Lake Lorraine project, they did a great job working with limited information on a fast track project."
The next phase of the Lake Lorraine development was created with a 'Main Street' feel, including lakeside dining, hotels and other unique retail concepts.
Further improvements to the west side of the lake will include the addition of docks, benches and a play area.
"Besides all the building construction, we'll also be creating the walking paths, picnic areas and green spaces that will be the hallmark of Lake Lorraine. It's going to be something very special," added Steve Van Buskirk, Director of Land Development for Van Buskirk Companies.
"Lake Lorraine is a great project for our company," said Kelley. "It's been fun to be part of a team that has turned an old gravel pit into something more beautiful and beneficial for the entire community."