Get to Know: New safety manager Jason Aasand
Meet Jason Aasand, the new safety manager for Gage Brothers Concrete. Aasand brings a wealth of experience to Sioux Falls and will oversee the well-being of the company's more than 250 employees.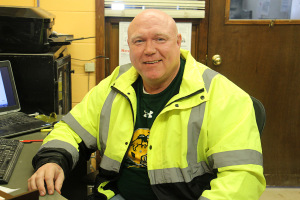 Q. How did you get into this line of work?
A. I started off my safety career in the labor law sector for the state of North Dakota, but most of my experience comes from working almost 14 years in the oil gas sector. I broke out as a Roughneck and worked my way up to a Safety Consultant for Continental Resources.
Q. Did you study construction management?
A. No, I attended North Dakota State University for Human Development and Counseling.
Q. How does one specialize in construction safety?
A. I think you must have a passion for safety and the well-being of others to specialize in safety.
Q. What attracted you to the safety manager position with Gage Brothers?
A. I was attracted to Gage Brothers by the contact I have on LinkedIn; I saw the job opening and did a lot of research to see if Gage Brothers and my personal philosophy of safety would be a good fit. I was impressed with all the great feedback I received after talking to people around the Midwest that knew of or had worked with Gage Brothers, so I decided to go for it and try to become a team member of the Gage Brothers family.
Q. What are some of the challenges of a career in safety? 
A. One of the challenges I have faced is convincing people to invest in their own safety. I accomplish this by interacting with the people involved in the program on a day-to-day basis, which gives them ownership of their safety program. Without the people we are not a company. 
Another challenge is not to take away human element of safety, (we sometimes look at the bottom line before safety). Everyone I spoke to told me Gage Brothers is a company that cares and puts employees first. We cannot forget that people have loved ones at home and we must create a strong safety culture to ensure that they get home to them at the end of the day. I accomplish this by letting the people know I am here for them and also thank them for their commitment to both their safety and the well-being of their families.
Q. What do you like to do in your spare time? What are some of your hobbies?
In my spare time I enjoy golfing, visiting Maple Lake (I tried to paddle board this summer, with much failure!) and North Dakota State Bison football. I'm also an avid hockey fan.
Q. Where did you grow up?
A. I grew up in Grafton, North Dakota. Grafton is a small town in the northeast corner of the state.
Q. What are you looking forward to the most at your new job?
A. I am looking forward to all the challenges, and thankful to be part of Gage Brothers.