Gage Brothers Strategic Partner Profile: Kraus-Anderson
It's not often that you get more than 200 years of combined experience to bear on a building project. That's the depth of knowledge a client receives when Gage Brothers Concrete and Kraus-Anderson Construction join forces.
For more than a century, Gage Brothers Concrete has used superior craftsmanship to create precast products built to stand the test of time as well as provide maximum design freedom and flexibility to our clients.
Our story began in 1915, when William Gage, Sr., began pouring concrete sidewalks in Sioux Falls. Gage Brothers Concrete was incorporated by Gage's sons, Albert and William Jr., in 1946.
Gage Brothers has evolved in step with the changing times and advancements in construction technology. A small company that poured miles of sidewalks during the Depression years has evolved into an industry innovator with a product line that includes thin-brick systems and CarbonCast architectural panels.
Kraus-Anderson Construction Company also builds on more than 100 years of construction history.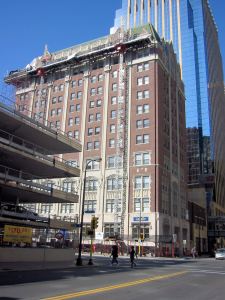 The firm was founded in 1897 as the J.L. Robinson Company by James L. Robinson, who was responsible for several Minneapolis buildings near the turn of the century.  A tribute to Robinson's workmanship is the Gothic-Revival style YMCA Central building in downtown Minneapolis. Built in 1919, the 12-story structure was converted to apartments in 1994 and is listed on the National Register of Historic Places.
In 1929, Robinson sold his namesake company to a pair of employees, Mathew Kraus and Amos Andersen. Lloyd Engelsma purchased Kraus-Anderson in 1938 and the company has been owned and managed by the Engelsma family for more than 70 years.
Today, Kraus-Anderson is one of the Midwest's largest commercial general contractors and a Top 50 mainstay in the Engineering-News Record's list of the top 100 general contractors in the United States.
And according to Gage Brothers president Tom Kelley, KA is also one of the most and respected construction firms in the country.
"We take a team approach to all of our projects, and KA has always been a valuable partner because we both recognize the expertise the other brings to the table," said Kelley. "They also have a long-term perspective that is invaluable in our industry."
A partnership formed out of respect and shared experience has resulted in Gage Brothers and Kraus-Anderson collaborating on nearly 50 building projects in the past 44 years; the majority of which are in the North Star State.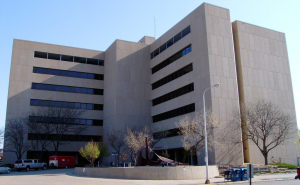 The first project to include Gage Brothers and Kraus-Anderson was the federal building in Aberdeen (S.D.) in 1972. That project was followed by the Western Life Insurance building (1976) and 330 2nd Avenue South (1980), an 8-story Minneapolis office formerly known as the Galaxy Building.
One of the most recognized Gage Brothers/KA projects is Edina's Centennial Lakes, one of the original large urban mixed use redevelopments in Minnesota.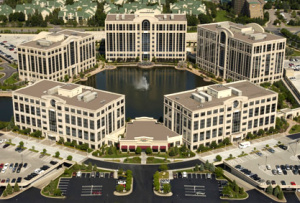 The class "A" office park spans 100 acres and consisted of nine total jobs for Gage Brothers from 1989-1997.
In 1986, Gage Brothers and KA also did work on the old Minneapolis Star-Tribune headquarters on Portland Avenue. The nearly 100-year-old building was demolished late last summer to make way for a 4.2-acre park that leads to the new Minnesota Vikings stadium.
Other jobs include Macy's Mall of America (1991), Modern Woodman of America (1993) and the Royal River Casino (1996).
Gage Brothers and KA also brought their development expertise together for the new TRIA Orthopedic Center location in Woodbury, MN. The facility will offer a full range of sports medicine and orthopedic services, including an acute injury clinic and physical therapy.
With similar outlooks on business, Gage Brothers and KA have set themselves apart from their respective industries.
"I think that both companies approach a building project with the intention of exceeding our clients' expectations for safety, quality and aesthetics," said Kelley. "It's the kind of partnership that helps transform the visions of our clients into award-winning projects."
A New Home for KA
Since its founding in 1897, Kraus-Anderson has grown into one of the largest privately held construction firms in the country and one of the most trusted names.
A clear sign of the KA's success was their need to accommodate the company's growth and provide extended sales services to customers.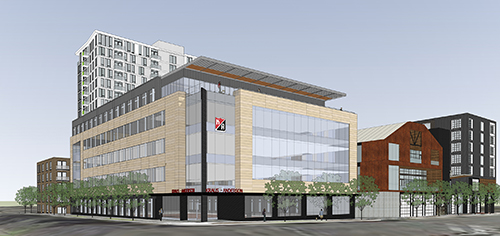 A new chapter in the Kraus-Anderson success story began on April 28th, when the company broke ground on its new corporate headquarters facility in at 8th St. and 5th Avenue in downtown Minneapolis.
The build-to-suit LEED facility will house approximately 300 employees, doubling the current downtown staff with room for additional expansion down the road.
Designed by Pope Architects, the 5-story, 100,000 sq. ft. building will consolidate KA operations from three separate locations. The new downtown digs will house a wide range of functions, including the company's construction, realty, development and mortgage operations, as well as the parent corporation, Kraus-Anderson Companies.
The consolidation of these groups makes logistical sense and will provide a collaborative work environment for KA employees.
It will also provide proximity to the city's strong technology talent pool. A recent study by Los Angeles-based CBRE Group ranked Minneapolis as the 15th top market for tech talent in U.S. and Canadian cities.
Amenities will include spacious conference rooms, a training center, a cafeteria, fitness area and a fifth floor outdoor deck with downtown views.
The plan also includes two levels of underground parking to serve KA's office employees.
Gage Brothers was awarded the precast contract for KA's new home earlier this year and will manufacture roughly 24,000 square feet of architectural precast products for the building.
"We have been working with Gage in our exterior planning," said KA project superintendent Terry Coleman.
The bottom level is fitted with charcoal-colored precast panels, while the second to the fifth floors are clad with buff-colored precast panels with a sandblast finish to achieve an exposed aggregate finish.
Coleman added, "Their active participation in our pull planning sessions has helped us achieve an optimal schedule and their insights identified strategies that reduced the cost of precast by 5%."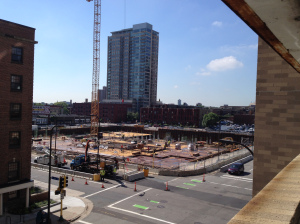 Great weather throughout the fall has led to rapid progress in construction of KA's new home.  On October 6th, the company topped off its headquarters building with a beam signed by employees. (view the webcam here)
KA's assertive and strong emphasis on the revitalization of the East Town neighborhood goes beyond their new headquarters. The master plan calls for a mixed-use redevelopment of the company's current downtown block with rapt attention paid to Portland Avenue.
KA has recently begun the construction of a new 17-story residential tower on Portland Ave., named "H.Q." Development plans also call for a 160-room hotel called The Elliot, and Finnegan's microbrewery.
"We're thrilled to provide the exterior of KA's new home and to be part of the revitalization of east downtown Minneapolis," said Kelley.
KA plans to occupy their new home by late 2017.
Kraus-Anderson is just one of many thriving companies that make the greater Minneapolis-St. Paul area a hub for headquarters. That corporate list includes such venerable names as UnitedHealth Group, Target, Best Buy, US Bank, 3M and General Mills.
"The strong partnership between Gage Brothers and Kraus-Anderson has been beneficial for both parties," said Kelley. "We are mutually supportive of each other's businesses and I expect to continue this relationship for many years to come."