Gage Brothers wins 2016 Excellence in New Communications Award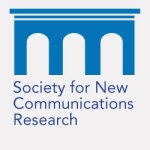 The Society for New Communications Research of The Conference Board (SNCR) has recognized Gage Brothers Concrete with a 2016 Excellence in New Communications Award. The prestigious awards program honors organizations for their exemplary use of digital, mobile and social media.
Gage Brothers received top honors in the Visual Storytelling Category for the Corporate Division.
"We are happy to honor Gage Brothers as a winner of this distinguished award," commented SNCR Senior Fellow Paul Gillin, chair of the SNCR Excellence Awards & Best Practices committee.
Gage Brothers was recognized for a broad-based social media and public relations campaign that spotlights both its employees and products. The efforts produced tangible results; including a significant increase in social media followers, more local news coverage and improved employee satisfaction.
Since January of 2015, the fan base for the Gage Brothers Facebook page has more than doubled, while the company's Twitter following has increased by 44.3% in the past four months.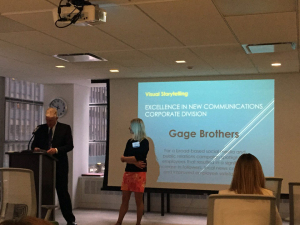 Tools used in the campaign included employee-engaged videos, time-lapse construction videos, weekly trivia, dozens of digital photo albums and the creation of a company blog.
Added Gillin, "The case study they submitted is a perfect example of how companies can use social media to create a sense of community within the business, not only increasing engagement internally but also creating an attractive employer brand externally."
Accepting the award on behalf of Gage Brothers was marketing manager Stephanie Pendrys.
"I am deeply honored to be here to accept this award on behalf of the nearly 250 fellow employees at Gage Brothers who made winning this award possible," said Pendrys. "It is humbling for us to be recognized by an organization with such a rich history of bringing business leaders together to share insight and best-in-class practices."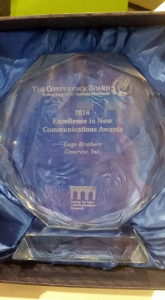 The 2016 Excellence in New Communications awards were presented at a cocktail reception and ceremony held at the Conference Board's Manhattan headquarters on May 18, in conjunction with the 21st Annual Corporate Communications Conference.
The SNCR Excellence in New Communications Awards program honors individuals and organizations for the exemplary use of digital, mobile and social media. Awards were granted in six divisions: Corporate, Government, Nonprofit/NGO, Media, Technology and Academic, and in seven categories. The top winners include:

Social Marketing
Corporate Division: Marriott International
Innovation, Digital and Marketing Experience
Corporate Division: John Hancock
Media Division: KCET Media Group
Social Data and Social Listening
Corporate Division: Johnson and Johnson
Government Division: The City of Calgary
Visual Storytelling
Corporate Division: Gage Brothers Concrete, Inc.
Nonprofit Division: Endeavor
Internal Social/Online Internal Communications and Communities
Government division: Oil and Natural Gas Corporation, Ltd
Mobile Experience
Government Division: The City of Calgary
Digital Program Performance Metrics
Corporate Division: Mambo Media
In addition to the top award winners, Commendations of Merit and Commendations of Excellence were presented to ten other organizations that submitted case studies in the awards program. In its ten-year history, SNCR has honored over 300 organizations and individuals through this prestigious awards program and all the winning case studies are available to members of The Conference Board at www.conferenceboard.org/sncr.
###
About the Society for New Communications Research of The Conference Board
The Society for New Communications Research of The Conference Board (SNCR) is a nonprofit research organization and think tank dedicated to the advanced study of new media and communications tools, technologies and emerging modes of communication, and their effect on business, media, culture, health, law and society. In February 2016, SNCR became part of The Conference Board, a global, independent business membership and research association working in the public interest. Founded in 1916, The Conference Board is an objective, independent source of economic and business knowledge with one agenda: to help our member companies understand and deal with the most critical issues of our time. Visit www.conferenceboard.org/sncr for more information.
About Gage Brothers
Gage Brothers Concrete Products Incorporated (gagebrothers.com) was established in 1915 by members of the Gage family and now employs more than 250 employees in northwest Sioux Falls. Employee-owned since 2008, Gage Brothers has a proud tradition of being a leading manufacturer of innovative architectural and structural precast concrete products. Products manufactured at the Sioux Falls plant can be found throughout the upper Midwest, including projects throughout Colorado, Iowa, Minnesota, Missouri, Montana, Nebraska, New Mexico, North Dakota, South Dakota and Wyoming. The Midwest's premier precast concrete company registered $61 million in sales last year.