Gage Brothers secures contract for phase one of SDSU Stanley J. Marshall Center renovations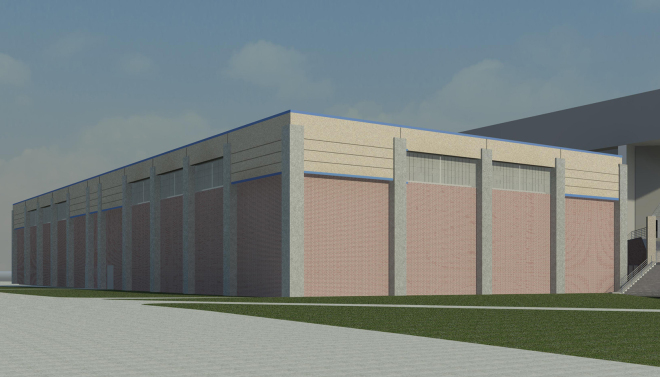 Gage Brothers has been awarded the precast contract for a projected $12.2 million renovation to the South Dakota State University Stanley J. Marshall Center.
The contract adds to Gage Brothers' growing portfolio of sports facility builds, which includes TCF Bank Stadium, Target Field, Kinnick Stadium and the Dome at America's Center in St. Louis.
Gage Brothers was chosen by general contractor Henry Carlson Company, a third-generation company headquartered in Sioux Falls. Gage Brothers and Henry Carlson have worked together on more than 280 building projects since the early 1960's.
At present, Henry Carlson is installing Gage Brothers precast products on the Canton High School performing arts center expansion, Washington Square and the new City of Sioux Falls administration building.
This is the fifty-first South Dakota State University building project awarded to Gage Brothers since the mid-1960s.
Gage Brothers is currently fabricating 78,000 square feet of precast for the $50 million expansion to the SDSU Performing Arts Center.
Additional work on the SDSU campus includes Daktronics Engineering Hall, the North Chiller Plant and Jackrabbit Grove. Gage Brothers also produced 35,000 square feet of smooth grey wall panels and tread/risers for the Dana J. Dykhouse Stadium, home of Jackrabbit Football.

The Details
Built in 1973, the Stanley J. Marshall Center houses offices for most of the SDSU athletic department as well as Frost Arena, the 6,500-seat home of Jackrabbit basketball, volleyball and wrestling.
The multiple-phase expansion of the Stanley J. Marshall Center includes practice facilities for men's and women's basketball and volleyball. Phase I will house approximately 27,000 square-feet of basketball practice gyms including support space, restrooms and two separate gyms, each with a full sized NCAA basketball court and two high school length cross courts for added versatility.
Jackrabbit Volleyball will continue to practice on the main arena floor, but these new courts will also be able to accommodate their training sessions.
A future phase will also include approximately 15,000 square-feet of space for the wrestling program.
These new spaces will give Jackrabbit teams more flexibility in terms of practice schedules and allow the facility to function more efficiently overall.
The addition will be attached to the Stanley J. Marshall Center by a connecting link comprising a corridor and storage space.
"Gage Brothers is proud to have deep and longstanding ties with South Dakota State University," said company president Tom Kelley. "These renovations signal a continued investment in SDSU athletics and another step toward continuing to position Jackrabbit teams on a national level."
The first phase of the Stanley J. Marshall Center renovations call for 32,000-sq. ft. of Gage Brothers precast architectural and insulated panels, grey slabs and corefloor. These flexible components can provide nearly limitless options for architects and engineers.
"Precast concrete was a critical aspect of the university's goal to provide the best environment possible for SDSU student-athletes from the moment they walk into the building until the time they leave," Kelley added.
The architect of record for the Stanley J. Marshall Center renovations is the design team of EAPC Incorporated/Sink Combs Dethlefs. Denver-based Sink Combs Dethlefs recently merged with Perkins+Will and is a national leader in sports, recreation, and entertainment architecture. Sink Combs Dethlefs also designed the Denny Sanford PREMIER Center.
According to the Gage Brothers preconstruction department, it will take approximately 28 days for employees to manufacture the precast components.

Additional Renovations to Frost Arena Will Benefit Fan Experience

Future construction will focus on Frost Arena, which is named for former SDSU coach and athletic director R.B. "Jack" Frost. SDSU estimates that more than 300,000 people visit Frost Arena each year
The Frost Arena renovations include a reconfiguration of the seating bowl to improve spectator viewing, VIP box seating, club seating and an expanded concourse. Loyal Jackrabbit fans can expect to be better accommodated with additional restrooms and concession options.
The renovations will also provide upgrades for sports medicine, locker facilities, administrative areas and event support space.
The end results of the renovation will greatly enhance the fan and student-athlete experiences and dramatically improve the infrastructure while maintaining the soul and feel of what has made Frost Arena special for more than 40 years.
School officials hope to have all three phases of construction completed by 2019.

Raising the Roof: Gage Brothers Precast Takes Sports Facilities to New Heights

Founded in 1915, Gage Brothers has manufactured concrete products for more than three dozen high school, collegiate and professional sports venues throughout the Midwest. The company's foray into sports facility construction came in 1957, when they produced concrete tread and risers for historic Howard Wood Field in Sioux Falls. That was followed by the Met Center in 1966— best known as the home of the Minnesota North Stars.
Recent sports and recreation projects include the Denny Sanford PREMIER Center, Kirkeby-Over Stadium, Dakota Wesleyan University/Avera Sports and Wellness Complex and the University of South Dakota Sports Performance Enhancement Facility.
Earlier this year, Gage Brothers was awarded the precast contract for a projected $89 million renovation to Kinnick Stadium, the University of Iowa Hawkeyes' home turf since 1929. The company will fabricate more than 75,000 square-feet of precast concrete for the build.