Gage Brothers Marketing Manager Stephanie Pendrys among DMN's 2019 40UNDER40 Award winners
Direct Marketing News, a leading provider of digital and data-driven marketing news, has recognized Gage Brothers marketing manager Stephanie Pendrys as one of the top 40 marketers under the age of 40 for 2019.
Winners of the 2019 40UNDER40 Award represent the marketing industry's most extraordinary, high achievers in the business, all under the age of 40. The list is cultivated by DMN's editorial team and nominees must meet certain criteria to be considered for this prestigious award. The editorial team looks for innovation, impactful results and a stellar career trajectory. This year's honorees include marketing executives and professionals from Epsilon, Performics, Terragon Group and LiveRamp.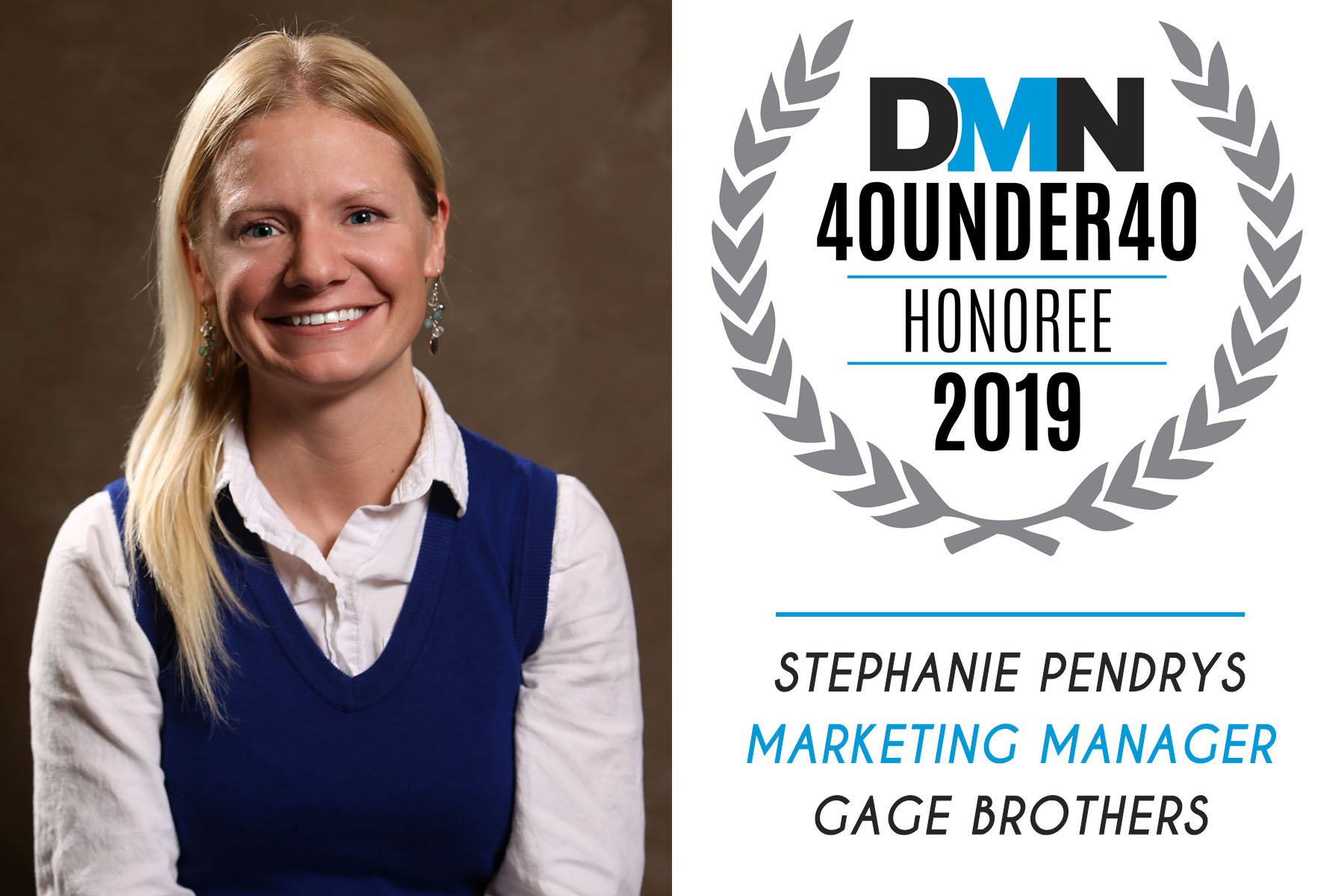 "The honorees chosen reflect the best of the best under 40 in the industry," said Kim Davis, DMN's editor-in-chief. "Whether they're revolutionizing their brands, or building winning teams and strategies, these are the marketers to watch."
Pendrys joined Gage Brothers in 2015 and serves as the company's one-person marketing department and "communications hyphenate."
An early adopter of social media, she quickly established a robust digital marketing strategy while simultaneously cultivating a growing presence for Gage Brothers across the social media landscape. Gage Brothers' Facebook following has increased tenfold since 2015, and the company has experienced much-improved engagement rates on its Twitter, YouTube, Instagram, LinkedIn and other social channels.
"Stephanie developed Gage Brothers' social media presence by insisting, sometimes with great persistence, that social content was the best way to share stories that convey the dedication that our team members use daily to build communities and provide valued solutions to clients," said Gage Brothers president Tom Kelley. "As a result, our level of engagement with clients, our team members and the community has increased significantly—I can't tell you how many times others in the precast industry have complimented me about our social media presence."
He added, "but the biggest surprise has been how much fun it has been for team members to take part in these creative, sometimes silly, social productions. She has reminded us that it's OK to laugh at ourselves."
Being named a 40 Under 40 winner comes as Pendrys' second marketing honor this year. She received a 2019 Hermes Gold Creative Award for Electronic Media: Using Facebook to Showcase Company Culture. Other honors include a 2018 AVA Digital Platinum Award and a 2016 Excellence in Communications Award from the Society for New Communications Research.
"I get energy from challenging the traditional marketing rule book and am inspired by the opportunities being created every day in the world of digital," said Pendrys. "I am honored to be featured on this year's 40 Under 40 list alongside some of the most accomplished and well-respected individuals within the marketing community."
Pendrys earned a Bachelor of Arts degree in history and English from Albion College (Mich.) in 2004 and a Master of Mass Communications degree from the University of South Carolina in 2006. She also holds an MBA from the University of Sioux Falls' Vucurevich School of Business.
The DMN 40UNDER40 honorees will be recognized at an awards ceremony on a private yacht in New York Harbor in September. 
2019's 40 Under 40 honorees:
Enrique Arbelaez
Co-founder and CIO, CIEN+ and Managing Partner, Culturintel
Tessa Barron
Senior Director of Marketing, ON24
Arthur Beavis
CMO, Hackster.io (an Avnet Community)
Seth Besmertnik
CEO and Founder, Conductor (a WeWork Company)
Andrew Bolton
SVP, Global Partnerships, Knotch
Caroline Canty
Creative Director, Epsilon
Hayley Coxon
Senior Director, Brand & Digital; Conga
Zack Dugow
CEO and Founder, Insticator
Jami Eidsvold
CEO, Smarty Social Media
Aaron Evans
CEO & Co-Founder; Drips
Ben Gaddis
President, T3
Anneka Gupta
President and Head of Products & Platforms, LiveRamp
Ashleigh Hansberger
Co-Founder and Chief of Strategy, Motto
Amanda Hellman
Managing Director, FF New York
Kyle Jackson
EVP Performance Media & Content, Performics
Joel Kaplan
Executive Creative Director & Associate Partner, M/H VCCP
Brian Long
CEO and Co-Founder, Attentive
Benjamin Lord
Executive Director, Global Omnichannel Marketing, CRM & Loyalty; NARS Cosmetics
Josh MacCarty
Director of Data Science, MARC USA
Christina May
CMO, Illumine8 Marketing & PR
Luke Mulks
Director of Business Development, Brave Software
Ryan O'Donnell
Director & Site Head – Digital Health & Innovation, Amgen
Nick Palmer
General Manager, ICON Fitness
Kelly Patterson
VP Corporate Marketing, Fluent, Inc.
Stephanie Pendrys
Marketing Manager, Gage Brothers Concrete Products, Inc.
Sophia Powe
Co-founder and Managing Director of The Relentless Collective
Formerly Content & Editorial Lead, Mercer International
Marjorie Powers
SVP CPG, Stella Rising
Lindsay Rapoport
VP of Digital Marketing, The Corcoran Group

Elizabeth Ray
Senior Director of Client Experience, Movable Ink
Sara Robertson
Global VP, Product Engineering, Xaxis
Juliana Roding
VP Planning and Analysis, Horizon Next
Joe Root
Founder, Permutive
Evan Rutchik
CRO, USA, Ogury
Michael Sallander
SVP of Digital Strategy, Antenna Group
Maria Sotra
VP of Marketing, Geotab Inc.
Clint Tasset
CEO and Founder, Adswerve
Alex Tshering
VP of Marketing, FIGS
Elo Umeh
CEO, Terragon Group
Taylor Williams
Senior Director, Data Science, FullContact
Katie Wilson
Founder & CEO, TapOnIt