Gage Brothers extends 59-year relationship with Howard Wood Field; wins contract for new fieldhouse
School officials recently approved a $4.7 million contract for renovations at Howard Wood Field in Sioux Falls.
Gage Brothers Concrete has been awarded the precast contract for the new fieldhouse.
Construction is slated to begin this summer.
"We are proud to have won this contract and thrilled to continue our relationship with Howard Wood Field," said Gage Brothers president Tom Kelley. "The facility is an integral part of the city's fabric."
He added, "Hundreds of former and current Gage Brothers employees have competed at Howard Wood or watched a football game from the stands, and I think that emotional investment goes a long way at our plant."
Nearly a century in age, Howard Wood Field looms as one of the region's best-known track and field venues. The birth of track and field at Howard Wood dates back to 1923. Marking its 90th running last year, the Howard Wood Dakota Relays regularly attracts more than 3,000 student athletes from the middle school, high school and college ranks.
For many years, all of the local high schools and both colleges (Augustana University and the University of Sioux Falls) played football there. Lincoln, Washington and Roosevelt high schools still claim Howard Wood as their home turf.
Named for a longtime coach at Washington, Howard Wood Field also served as the finish line for the 2015 Sioux Falls Marathon and Half Marathon.
There's a lot of tradition, a lot of history, and a lot of memories at Howard Wood—and Gage Brothers has been part of the venue's foundation for more than a half-century. The stadium (current seating capacity: 10,000) has undergone significant improvements over the years, and Gage Brothers has been involved nearly every step of the way.
As it happens, Howard Wood Field was the company's first significant foray into sports facility construction.
Built in 1957, the original Howard Wood stadium was designed by TSP founder Harold Spitznagel. There still exists footage of Albert and William Gage, Jr., sons of company founder William Gage, pouring concrete for the tread and risers.
https://vimeo.com/151678662
In the decades that followed, Gage Brothers began to churn out precast for dozens of high school gymnasiums, pro arenas and college athletic facilities throughout the Midwest.
Howard Wood Field is owned and operated by the school district, which has continued to update the classic facility.
Gage Brothers also manufactured corefloor planks for Howard Wood's 1980s remodel.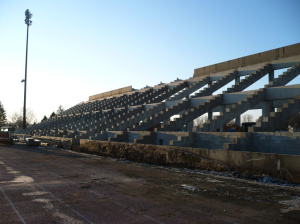 In 2012, Howard Wood underwent a major overhaul that included a new running track, grandstand seating and an upgraded press box. Gage Brothers poured more than 94,000 square-feet of double tees, beams and tread & risers for the $7 million renovation.
But expectations of what sports venues should be have increased lockstep with the needs of both athletes and spectators.
Sports facilities are built not only to be a place where athletes come to test their limits but to also contribute to the vitality of the broader community.
Howard Wood is no different and about to undergo more changes thanks to the approval of school officials.
The renovation will modernize the locker rooms and restrooms and also expand the athletic training areas. But the biggest part of the renovation project involves the fieldhouse, which has not changed since Albert and William Gage, Jr. provided materials for the original structure in 1957.
Fifty-nine years later and with a bolstered résumé that includes Target Field, TCF Bank Stadium and the Edward Jones Dome, Gage Brothers will fabricate almost 10,000 square-feet of wall panels and more than 100 precast pieces for the new fieldhouse.
"The fieldhouse renovations will do a great deal to enhance the historic site," added Kelley. "And the fact that Gage Brothers has won four contracts for Howard Wood over the past sixty years is a testament to our corporate endurance and ability to innovate our products to meet changing market demands."
Founded in 1915, Gage Brothers has manufactured concrete products for several athletic venues in recent years, including South Dakota State's Dana J. Dykhouse Stadium, Kirkeby-Over Stadium, Dakota Wesleyan University/Avera Sports and Wellness Complex and the University of South Dakota Sports Performance Enhancement Facility.
Sioux Falls-based Beck & Hofer Construction submitted the lowest of seven bids and was named the project's general contractor. Beck & Hofer will contribute its vast building experience from previous athletic facilities, including GreatLIFE Malaska Golf & Fitness Club at Bakker Crossing, Thunder Road and the Tomar Park tennis courts.
This will be the 30th building project that Gage Brothers has worked on with Beck & Hofer since 1988. Previous collaborations include the Boys & Girls Clubs of the Sioux Empire, Elmen Park and Big Sioux Power Sports.
"Gage Brothers has developed a great relationship with Beck & Hofer over the past 20-plus years," said Kelley. "We think of our relationship as more of a partnership."
The renovations will not be complete in time for 91st edition of the Howard Wood Dakota Relays, but should be ready by the 92nd running in 2017.