Gage Brothers carpentry at its best; company named a winner of the 2016 Sidney Freedman Craftsmanship Award
Gage Brothers was recently named a winner of the 2016 Sidney Freedman Craftsmanship Award for its production of panels for the Sanford Medical Center in Fargo, North Dakota.
The purpose of the Sidney Freedman Craftsmanship Awards program is to recognize PCI certified plants for excellence in manufacturing and craftsmanship of architectural precast and glass fiber reinforced concrete structures and individual components.
The award is named in honor of Sidney Freedman, longtime PCI Director for Architectural Systems. The award was established in 2012 as a lasting tribute to Freedman's numerous contributions to the architectural precast community, most notably related to production and quality.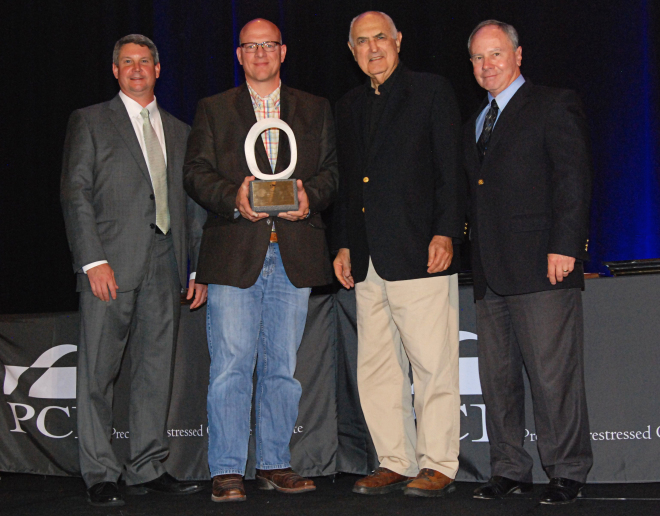 "We are honored to have received such a prestigious award in today's competitive and challenging construction environment," said Joe Bunkers, Vice President of Preconstruction. "Our team of carpenters, led by supervisor Bill Crossley, production manager Gary Steinke and project manager Adam Struck are truly the ones who deserve this award for their dedication and superior workmanship."
The Sidney Freedman Craftsmanship Awards focus on issues such as forming, overcoming obstacles to production, finishing, and quality of individual architectural precast/prestressed units and glass fiber reinforced concrete rather than architectural design. In this regard, the Sidney Freedman Craftsmanship Awards differ from the Design Awards and Harry H. Edwards industry Advancement Awards, which recognize architectural design and innovation ideas to advance the industry for completed structures and bridges.
Added Bunkers, "We would like to thank all of our partners involved in this project including HKS, Endicott Brick, Mortenson Construction and Landwehr Construction."
With nearly a $500 million budget, no expense was spared on the 11-story Sanford Medical Center —which has been described as the largest hospital project in North Dakota history.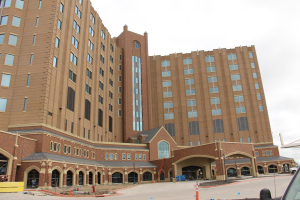 Sanford Fargo is the largest contract ever awarded to Gage Brothers. At the final tally, 2,326 panels and 334,480 square feet of precast was manufactured at the Gage Brothers plant in Sioux Falls, while the thin-brick was provided by Nebraska-based Endicott Brick.
The Gage Brothers precast that covers the outside of the hospital ranges in size from 10 pounds to 36,000 pounds (roughly the weight of four Chevrolet Suburban SUVs).
The HKS-designed Sanford Medical Center is a classic collegiate gothic architectural style; Sanford's chosen design for all its new properties. The look is timeless, low-maintenance and serves as a visual embodiment of Sanford Health. From the arches at the arcade to the spires on top, these details can be seen throughout the soaring, 11-story structure.
Gage Brothers worked directly with HKS for more than two years before construction began to create solutions that adopted craft methods to modern requirements or introduced new technology while retaining the look, scale, and feel of traditional design – human scale. It was a constant push/pull between design preference and constructability.
The end result of this collaboration was a highly detailed façade that Gage Brothers could cast and strip.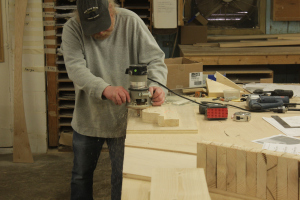 Using a variety of large and small wood-working tools, the team of Gage Brothers carpenters were able to shape, cut and mold standard dimensional lumber into flutes and scrolled arches.
Gage Brothers printed many templates to use while setting up the forms to help keep everything consistent and aligned. Since some of these panels stacked 10 floors, it was very important to ensure that all the relief and details would align as they ascended the building.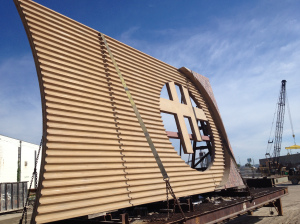 To make this vision into a reality, Gage Brothers carpenters spent 21,968 hours building, placing and changing forms for this project. Gage Brothers cast 2,213 in all for a total of 6,599 yards.
"At HKS Inc., we place tremendous value on the solid and lasting relationships we have with our trusted clients and industry partners," said Clifford Horsak, HKS Associate Principal and Senior Vice President. "Though modesty is what I saw during the collaborative process, elegance and excellence is what we got in the delivered product."
He added, "Having Gage Brothers on our next team will allow us to further leverage relationships, best practices, knowledge, and expertise to deliver award winning architecture."
The other co-winner of the 2016 Sidney Freedman Craftsmanship Award was Forterra Structural & Specialty Products of Irving, Texas. Forterra was recognized for its work on the Payson Utah Latter-day Saints (Mormon) Temple in Payson, Utah.
Both projects represented the finest standards in craftsmanship for PCI-certified plants.
Joe Bunkers received the award on behalf of Gage Brothers earlier this month at the 2016 PCI Committee Days and Membership Conference in Rosemont, Illinois.
With 384 beds and one million square feet, the new Sanford Medical Center Fargo stands as one of the top-10 largest healthcare construction projects in the nation. The new medical center is on schedule to begin seeing its first patients in 2017.
Click here to view more photos of the new Sanford Medical Center- Fargo.