Gage Brothers awarded hotel project in downtown Denver
Gage Brothers has been awarded the precast contract for a new, dual-branded hotel development in downtown Denver. The development features an AC Hotel by Marriott hotel as well as a Le Méridien Hotel, part of Starwood Hotels & Resorts. The 18-story development is scheduled to open by late summer 2017.
The two hotels will add close to 500 rooms to the heart of the Mile High City's business district, just one block from the Colorado Convention Center and within walking distance to Denver's famed 16th Street entertainment district. Mile High Stadium (Denver Broncos), Coors Field (Colorado Rockies) and the Pepsi Center (Denver Nuggets, Colorado Avalanche & Colorado Mammoth) are also nearby.
The hotels will be designed by HKS, an international architecture firm which specializes in resorts and sophisticated hospitality projects, while Swinerton Builders and AECOM-owned Hunt Construction have been selected as the joint general contractors.
Gage Brothers will fabricate more than 18,000 square-feet of architectural precast panels (121 in all) for the Le Meridien/AC Hotels. It will take approximately three weeks for the panels to be manufactured in Sioux Falls.
"This is an attractive, highly visible project for Gage Brothers in the Denver market," said Joe Bunkers, Vice President of Preconstruction. "We are thrilled to provide the precast for a hotel development as unique as this in the heart of downtown Denver."
Precast concrete can be adapted in many ways to meet a wide variety of hotel design challenges and the Le Meridien/AC Hotels are no exception. Each hotel will have its own distinct entry, lobby and bar led food and beverage outlets.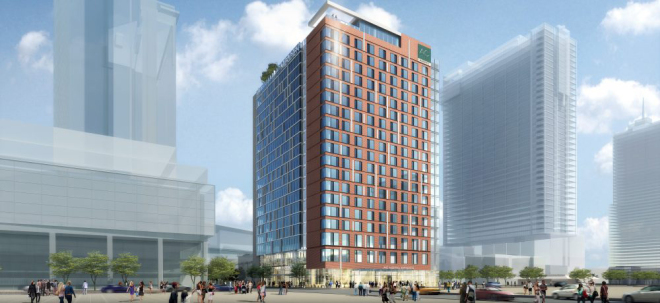 Le Méridien will feature 272 luxurious rooms and a full-service restaurant as well as a 24-hour fitness facility, business center and meeting space. Other highlights of the design-led hotel include a 5,000-square foot ballroom and the Le Méridien Hub, a lobby with traditional elements cast aside in favor of a gathering place with heavy emphasis on social interaction and the growing demands of coffee lovers at every Le Méridien hotel worldwide.
Le Méridien Hotels & Resorts is a Paris-born hotel brand that was acquired by Starwood Hotels & Resorts Worldwide in 2005. Le Méridien is currently represented by nearly 100 properties in more than 40 countries. Recent portfolio additions in the U.S. include new hotels in Atlanta, Charlotte, Indianapolis, New Orleans, Chicago and Tampa.
Newly introduced to the U.S., the AC Hotels Denver will be the lifestyle brand's first property to open in Denver. The brand originated in Europe in 2011 as a joint venture with Spanish hotelier, Antonio Catalan and presently boasts a portfolio of 77 hotels in Spain, Italy, Portugal and France.  The AC Hotel Denver will have design elements that embody the city's one-of-a-kind character.
The Le Meridien/AC Hotels will be managed by White Lodging Services Corporation of Merrillville, Ind. White Lodging's current portfolio consists of more than 160 mid-to large-scale hotels in 20 states and encompasses representation of the following leading brands:  Marriott International, Inc., Hilton Worldwide, Hyatt Global, Starwood Hotels and Resorts, Preferred Hotel Group and InterContinental Hotel Group.
"Precast concrete was a critical aspect of White Lodging's strategy to build a superior quality hotel that will serve the city of Denver for decades to come," said Bunkers.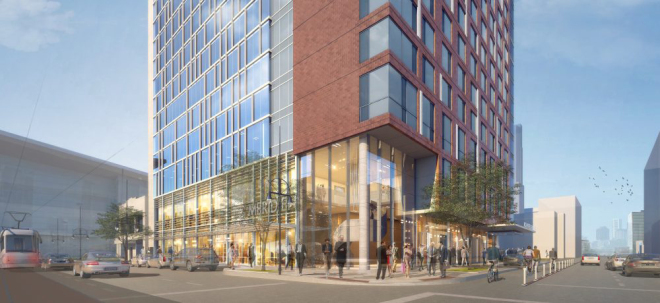 Gage Brothers has provided precast solutions for more than two dozen hotels and resorts over the years, including: the Holiday Inn Rapid City-Rushmore Plaza, Cadillac Jack's Gaming Resort, Holiday Inn Resort Deadwood Mountain Grand Hotel and the Westin Edina Galleria Hotel.
This is not Gage Brothers' initial foray into the Denver market. They were the precaster of note for the Fairmont Hotel (1978), Tamarac Plaza office complex (1981), Denver International Airport (1992, 2012), Pinnacle at City Park South (2005) and the renowned Ralph L. Carr Colorado Judicial Center (2012).
Gage Brothers is also producing extensive precast for SkyHouse Denver, a 25-story, 354-unit high-rise development with ground-floor retail that is situated at the corner of Broadway and East 18th Avenue.
"Over the years, Denver has provided Gage Brothers with many opportunities that have aligned well with what we do as a company," added Bunkers. "We look forward to working on many more sizeable Denver projects in the future."
Gage Brothers has secured job contracts in seven of the fifty largest cities in the U.S. in terms of population: Chicago, Colorado Springs, Denver, Kansas City, Minneapolis, Omaha and Tulsa.