Gage Brothers awarded hotel development contract in Wayzata
BohLand Development has awarded Gage Brothers Concrete the contract for a highly anticipated hotel development in Wayzata, Minn. The Landing, which is the final block to be constructed as part of the Promenade of Wayzata, will include condos, as well as a spa, restaurant, 89-room boutique hotel and 15,000 square-feet of retail space.
The scope of the project includes constructing a portion of the multi-million dollar structure over a pond. Gage Brothers is tasked with providing the floor system to make the semi-buoyant structure a reality.
Gage Brothers is manufacturing 1,030 linear feet of beams and 14,000 square-feet of solid slabs for the development. They will also produce 9,000 sq. ft. of 8" solid plank precast slabs for both the east and west side of Engel Street.
The Landing will be situated in the Promenade of Wayzata's east block and marks the return of a hotel to Lake Minnetonka for the first time in 50 years. The city of Wayzata first approved the general plan for the Promenade of Wayzata in 2008 – the largest redevelopment project in the city's 161-year history. The 14.5-acre Promenade demolished the old Bay Center Mall, a 1960s-vintage shopping center on swampland near Lake Minnetonka.
In the 1800s, upscale resorts and hotels dotted the shores of Lake Minnetonka, but the last of these closed/shuttered in 1964.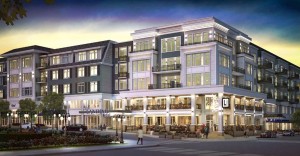 Architects from the Cunningham Group and city officials spent a great deal of time discussing how the Landing could harken back to Wayzata's rich summer resort history. As a result of those conversations, the exterior of the Landing is designed as a throwback to an earlier era and pays homage to former resorts that were on the lakeside.
The Landing's design elements include clapboard siding, stone, metal accents, two levels of verandas, dormers and fabric awnings.
Connecticut-based Hay Creek Hospitality will oversee operations of the hotel and restaurant. Many of their hotels are in quaint small town lakefront communities like: Kennebunkport, M.E.; Charleston, S.C.; Steamboat Landing, N.Y.; and Exeter & Wolfsboro, N.H.
The precast materials will be delivered by Gage Brothers by the end of January 2016. Construction is expected to begin by summer, with a soft opening anticipated for December 2016 and final completion in early 2017.