Gage Brothers announces official groundbreaking ceremony for new plant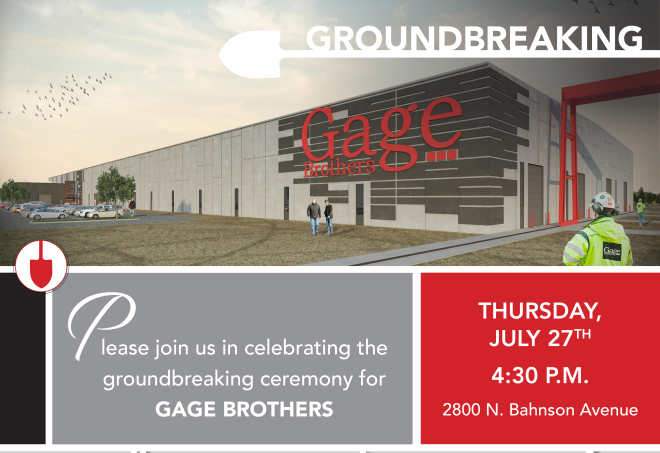 Gage Brothers has announced that it will officially break ground for its new state-of-the-art manufacturing facility on Thursday, July 27th at 4:30 p.m.
The groundbreaking ceremony will take place on the site of the future building, which will be located at 2800 N. Bahnson Avenue in northeast Sioux Falls.
South Dakota Governor Dennis Daugaard and Sioux Falls Mayor Mike Huether are expected to attend the ceremony, along with other state, city and company officials.
"Earlier this summer we announced the start of a new era for our company," said Gage Brothers president Tom Kelley. "I am truly excited to take the next step toward another milestone as we break ground on a new manufacturing facility, which will support our plan to increase production by 60 percent while increasing our employee base by 20 percent in the next five to eight years."
He added, "We believe this region possesses a great pool of talent, and we look forward to having these exceptional employees build a career with us."
The new property at N. Bahnson Ave. is on land owned by the Sweetman family south of Benson Road and east of Interstate 229 that is being developed as an industrial park. Once complete, the new plant will consolidate machinery and employees into a single 210,000-square-foot facility spread across 45 acres.
Gage Brothers' new space is expected to cost about $40 million, which will primarily be financed through Great Western Bank and Gage Bros. Land Company LLC, with additional funding from the South Dakota Governor's Office of Economic Development (GOED) and private investors. The Gage Bros. Land Company is comprised of the Gage Brothers board of directors along with Tom and Fred Gage.

###
About Gage Brothers

Gage Brothers Concrete Products Incorporated (gagebrothers.com) was established in 1915 by members of the Gage family and now employs more than 250 employees in northwest Sioux Falls. Employee-owned since 2008, Gage Brothers has a proud tradition of being a leading manufacturer of innovative architectural and structural precast concrete products. Products manufactured at the Sioux Falls plant can be found throughout the upper Midwest, including projects throughout Colorado, Iowa, Minnesota, Missouri, Montana, Nebraska, New Mexico, North Dakota, South Dakota and Wyoming. The Midwest's premier precast concrete company registered $40 million in sales last year.