Built to meet strict FEMA specifications, precast offers protection and peace of mind.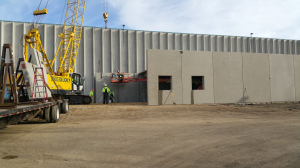 Most areas of the country experience nasty weather from time to time, but where there is high wind there is greater need for protection.

According to the National Weather Service Storm Prediction Center, there have been 56 confirmed tornadoes this year in the United States from January 1st to March 5th.

Precast concrete inherently possesses the vital characteristics, such as strength, penetration resistance and durability, required to withstand the hazards of violent weather.
As a result, the Bobcat Company turned to precast for a recent addition to its operations in Gwinner, North Dakota.
The Bobcat North Assembly Addition is a 210 ft. x 50.ft. addition to an existing structure that was completed in early 2016. The addition is a storm shelter that serves as locker rooms and a lunch/cafeteria space adjacent to the existing assembly building. Since the addition is a storm shelter, it was designed to resist a 200 mph wind load per the design codes provisions stipulated in FEMA 361 and ICC 500 for that geographic location.
Buildings, shelters or spaces designed to the ICC-500 standard are termed "shelters," so all precast concrete safe rooms designed to the FEMA criteria meet or exceed the ICC-500 requirements.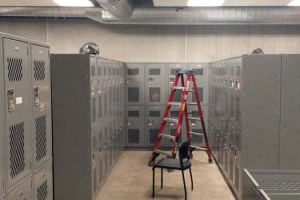 The new building being adjacent to an existing structure presented a minor design challenge from an accessibility perspective, but was overcome by bearing the roof double tees on an 8" solid wall and cantilevering the double-tee to meet the existing building.
The precast components on the job consisted of 10DT26 roof members (a 10DT24 with a 4" Flange), 14" IWPs (8/3/3) and 8" solid panels. The double-tee size was dictated by load demands, but the insulated wall panels were made thicker to help with global uplift on the structure since they were only 17' tall.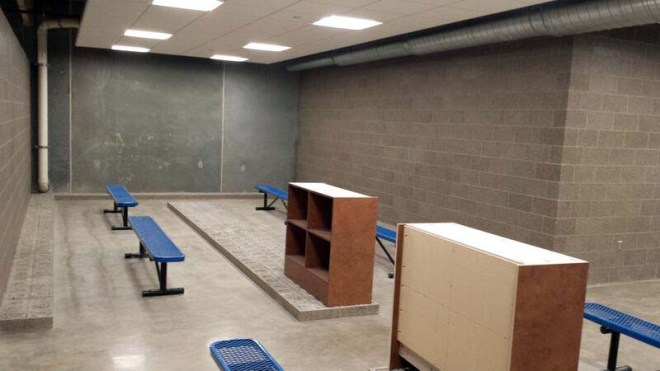 As with any storm shelter, the challenges with this job were ensuring the load demands during a tornadic event were correctly resolved so that load path existed to the foundation elements. Aside from these typical design challenges the job went very well and went together quickly and efficiently.